Fava Bean Dip
(recipe, Trista Cornelius)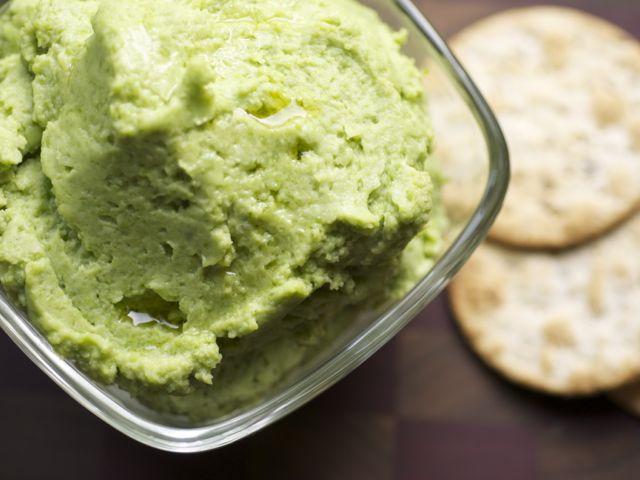 primary-image, l
Introduction
This dip is so lusciously green, you'll feel as if you've stepped into the Emerald City in the land of Oz. Its rich taste and silky texture make it addictive. You're not likely to have leftovers, but if you do, this dip is great spread on bruschetta or rolled into a wrap with cold lettuce and grated carrots.
Ingredients
Dip
2 lb. fresh fava-bean pods
1 garlic clove, chopped
1 tsp. thyme, crushed (optional)
¼ tsp. salt
Dash of cumin
⅓ cup olive or grapeseed oil (enough to make the dip smooth)
For serving
Sturdy, salty wheat chips or crackers, such as pita chips
Crudités, such as sliced carrots
Steps
Wash the fava pods and shell the beans. Parboil the beans for a few minutes, until just barely cooked, then drain them and shock them in a large bowl of ice water to stop the cooking. Peel the splitting skins off the fava beans and discard the skins.
Put the beans in a food processor and pulse a few times to start to break them up. Add the garlic, thyme (if using), salt, and cumin. Whirring continuously, drizzle in the oil until the dip appears smooth and uniform.
Place the dip in a white or glass bowl to accent the vibrant green color of the dip. Serve with plain, sturdy, salty chips or crackers (nothing flavored) and sliced cold vegetables (carrots make a gorgeous and tasty complement).