Tea time
(article, Lynne Carstarphen)
[%pageBreakSettings nobreak=true][%adInjectionSettings noInject=true]

When I was little, I feasted on a steady diet of British children's books, from The Secret Garden to Noel Streitfeld's Shoes series. The children in these books spoke the same language as me, but the words meant different things. Nowhere was this more apparent than in the food they ate. Strange names cloaked familiar flavors in an enticing glamour. How much better a biscuit must taste than a cookie! 

Even the meals went by different names. Every day the three orphans in Ballet Shoes took a break from their pantomimes and pliés to have something called "elevenses." So dazzled was I by the mouthwatering appeal of such a word that I was in college before I realized that elevenses were just the British cousin, once removed, of my American morning snack. But a better morning snack, I was sure.

Rose Carrarini's first cookbook, Breakfast, Lunch, Tea — based on the dishes she serves at her café, Rose Bakery — carries much of the same appeal. Almost all of the recipes are for familiar foods — scones, carrot salad, brownies — except that Carrarini is British and her café is in Paris. The book's appeal lies in its charming Anglo-French combination, one part Secret Garden, one part Madeline. 

The breakfast section of the book focuses on café basics like fruit salads, scones, and granola. The sugar-free granola promises to become a staple of my pantry, and Carrarini's sensible instructions for scrambled eggs helped demystify a supposedly simple dish that I've always struggled with. For lunch she offers a tempting array of savory tarts and pizzette, as well as some more virtuous vegetable dishes. However, since I seldom use recipes for breakfast or lunch, I was most attracted to the tea section of Breakfast, Lunch, Tea. I would never eat dessert in the middle of the day, but if you call it tea, I'm happy to indulge. 

Tea may be a small meal, but in this book it has the most recipes. Many of Carrarini's cakes, tarts, biscuits, and puddings have traditional names, but she offers a decidedly contemporary take on them. Carrarini adheres to the new ideal of using local and seasonal ingredients, and she also understands that not everyone can eat the traditional dessert ingredients of butter, flour, and eggs. So she includes several gluten-free recipes, including a moist and delicious cake made from lemon, rice, and polenta, and treats like fruit cake and jam biscuits for vegans. Other recipes offer sophisticated renderings of old standbys like brownies; Carrarini's super-rich hazelnut brownies are grand enough to serve at a dinner party. The versatile recipe for sweet pastry crust supports several tart fillings, from simple lemon to a more decadent chocolate and chestnut combination. 

[%image featurette-image float=left width=400 credit="Photo: iStockphoto/danchippendale" caption="How traditional is your tea time? Vegan clotted cream, sugar-free jam, and gluten-free scones?"]

In her introduction, Carrarini notes that she's a pastry chef who's not very fond of sweet things and sugar, and this is the aspect of her recipes I appreciate the most. They certainly contain sugar, but in many cases not as much as other versions, and the other flavors aren't overwhelmed by sweetness. I want my desserts to be slightly sweet, not too sweet.  

Thus less sugar and a generous pinch of cayenne give Carrarini's fresh ginger cake a delightfully spicy kick, made even better when you follow her serving suggestion of toasting a slice with a little butter. Oat-and-coconut cookies, based on the Australian Anzac cookie, have just enough sugar to enhance the natural sweetness of oats and coconut. There's even a savory, curry-flavored broccoli cake.

Carrarini often calls for seemingly unfamiliar ingredients, but American equivalents are always given in parentheses. It's helpful to know that caster sugar is just superfine baking sugar, readily available in grocery stores. One item lost in translation, however, is golden syrup. After some research, I learned that golden syrup is a refined cane-sugar syrup often used as a sweetener in baking or as a pancake topping in Britain and Commonwealth countries. Carrarini suggests using light corn syrup as an American equivalent. But for many of us, baking at home is in part an effort to avoid the corn syrup found in so many commercially produced baked goods. Even if only for psychological reasons, real golden syrup is worth the little extra effort it takes to find. I found it in the baking section of a slightly upscale grocery store; it can also be ordered online from Amazon or iGourmet.

[[block(sidebar).

h1.Featured recipe

Breakfast, Lunch, Tea has some limitations as a cookbook. The book is beautifully designed, and the full-page color photographs are gorgeous (who could look more French than Jean-Luc Poujauran, Rose Bakery's bread supplier?), but the book's design often gets in the way of its functionality. All the recipes are printed in boldface type, with American equivalents in regular type. Pretty, but boldface is tough to read, and the American equivalents look faint by comparison. 

Carrarini is a self-taught cook, and her instructions are often vague or inconsistent. A supposedly "dead simple" shortbread recipe calls for a cup of cold unsalted butter, makes no mention of dividing it into small pieces (the way other recipes in the book do), and then instructs you simply to "bring together" the butter with the sugar, flour, and other ingredients. Exactly how to do that is left to the home cook's presumably daunted imagination.

Breakfast, Lunch, Tea is not an authoritative baking reference; this is not the book, for example, to jump-start your relationship with pastry crust. If, however, you're ready to take your pastry crust relationship to the next level, Breakfast, Lunch, Tea_ is an excellent resource.

p(bio). Lynne Carstarphen is a writer and editor in San Francisco.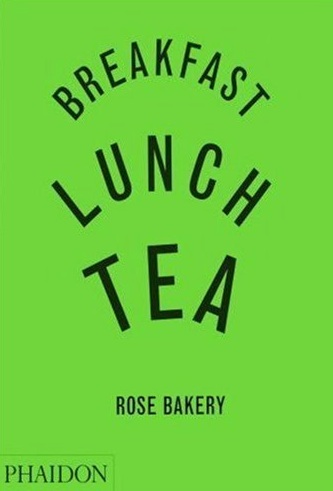 reference-image, l

featurette-image, l

promo-image, l

feature-image, l