Sausage Sandwiches with Peppers and Onions
(recipe, Carrie Floyd)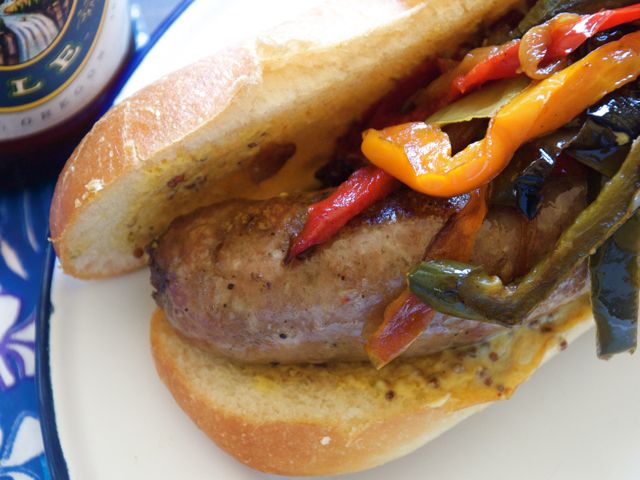 primary-image, l
Introduction
At the Portland Farmers' Market you can follow your nose to the smell of sausages cooking on the grill, then queue up to be further taunted while you wait. [/mix/dinnerguest/porkday_2011 "Fred Carlo"] makes fantastic sausages, tops them with grilled peppers and onions, then sets it all in a bun with spicy mustard. There's no doubt in my mind that Fred makes the best sausage sandwiches in the world. Here's a recipe to make your own sausage sandwiches if you can't make it the market. In the summer I vary the peppers, based on what's available, adding Italian frying peppers and poblanos to the mix. Serve with a cold local brew.
Ingredients
Extra-virgin olive oil
3 bell peppers (a combination of green and red), seeds and membranes removed, sliced into strips
1 large yellow onion, peeled and thinly sliced
4 mild or spicy Italian sausages
4 long crusty rolls or 1 baguette (sliced into quarters, then sliced in half length-wise)
Mustard (hot, stone-ground, Dijon) for serving
Steps
On a griddle or in a large cast-iron skillet, add enough olive oil to coat the bottom. Fry the sliced peppers and onions, stirring often, over medium-high heat until the vegetables are soft and brown on the edges (about 20 minutes).
Meanwhile, prepare the grill and cook the sausages until they're cooked through and browned on the outside.
Lightly toast the rolls or bread. Spread with the mustard of your choice and top with the cooked sausage, peppers, and onions.