Jewish Mother Chicken Soup
(recipe, Shoshanna Cohen)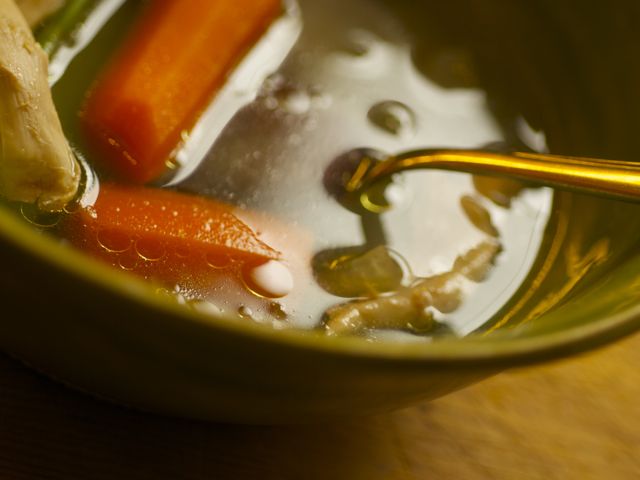 primary-image, l
Introduction
You can use leftover broth to cook pinto beans or rice or other soups, and use leftover meat in tacos or casseroles.
Ingredients
2 to 3 carrots
1 onion
2 to 4 raw chicken pieces with bone and skin (breasts, thighs, etc.; if you're making a bigger pot, you can do a whole cut-up chicken)
Salt and pepper
Egg noodles or white rice (optional)
Steps
Cut the veggies into a few big pieces. Throw them in a medium-sized pot with the chicken and fill the rest of the pot with water. Season with salt and pepper. Bring to a boil, then simmer for maybe 45 minutes.
Remove the chicken from the broth; let the meat rest for a few minutes on a plate, until it's cool enough to shred from the bone. Return the chicken to the soup (minus the skin and bones) and heat for a few minutes; serve.
If you're using noodles or rice, add them in the last 10 or 20 minutes of cooking, respectively.