Fig Chutney
(recipe, Caroline Cummins)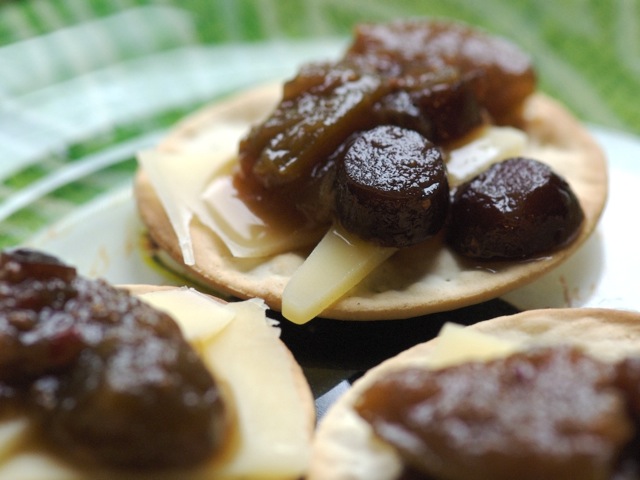 primary-image, l
Introduction
This recipe is adapted from a plum-chutney recipe in the October 2005 issue of Saveur.
Ingredients
1¼ cups granulated sugar
1¼ cups light brown sugar (not firmly packed)
1 cup red-wine vinegar
1½ cups dried cranberries
1 small onion, diced
⅓ cup fresh ginger, diced
3 large garlic cloves, diced
1 Tbsp. salt
5 tsp. mustard seeds
2 to 3 tsp. red pepper flakes
5 or 6 pounds fresh figs, chopped into ½-inch pieces
8 to 10 eight-ounce canning jars and lids
Steps
Bring sugars and vinegar to a boil in a large, heavy pot over medium heat. Stir in the cranberries, onion, ginger, garlic, salt, mustard, and pepper flakes. Bring to a simmer. Stir in the figs. Reduce heat to a low simmer and cook, stirring occasionally, until chutney is dark and thick, about 4 hours.
Bring a large pot of water to a boil. Sterilize the jars in the boiling water for 10 minutes; soak the jar lids and ring bands in hot water. Fill each jar with hot chutney, wipe the rims clean, place the lids on the jars, and screw on the ring bands. Submerge the filled jars in the pot of water, turned down to a gentle boil, for 10 minutes. Transfer the jars to a dishtowel and place at least 1 inch apart; let cool for 24 hours.