The romance of food
(article, Roxanna Font)
[%pageBreakSettings nobreak=true]

There are men from my past who would have been forgotten had it not been for their culinary influence on me. 

I think this over a pan sizzling with julienned onions, carrots, and zucchini, into which I'm sprinkling basil. I learned to make this dish from a baker, who told me that you had to crush, not cut, the herb in order to bring out its flavor, and that the basil paired well with the vegetables in this sauté. The muscle under his thumb was swollen from kneading bread all day, and with those strong hands he shredded the mozzarella that melted over everything just so. 

Our relationship lasted only a few weeks, but here I am, more than a decade later, still using his recipe.

They say that of our senses, smell is the one that most readily summons memories. If that's the case, then taste must come in a strong second. What is a flavor without the accompanying scent? As children, why else would we have plugged our noses to avoid tasting something icky?

[%image setup float=right width=400 caption="Flan ingredients are few."]I was a latchkey kid, quickly graduating from milk and cereal to literally well-balanced meals that looked like a pie chart on the plate. By the time I was in my 20s, I fancied myself a domestic chef. One of my signatures was congris, or Cuban rice and beans, a haphazard recipe passed down in my family over several generations. So often did I make the dish that when my first love and I parted ways during junior year in college, he remarked to a mutual friend, "I guess I just got tired of rice and beans." 

Did he not remember the three-pan pork chop I invented late one night? (One part pork and veggies, one part cream of mushroom soup, and a whole lot of desperate coed hunger.) Like the beans that stain the rice gray in congris, associating a dish with a cook working that familiar route to the heart just can't be helped. But my first love never deigned to soak the beans himself or make the sofrito of garlic, bacon, onions, and peppers, and it's the action that makes the memory lasting.

Another ex learned how to make a roux from me. I'd discovered how flour thickened a sauce, and so would take a teaspoon to anything that had been sautéed in butter. This of course often yielded clumpy and disgusting results, but maybe our temporary bliss worked some magic on our chicken stew, because years later, he told me he still whipped up the dish on occasion. Who was he cooking it for? Would he ever tell her how it was he came to know the power of flour?

I wonder now what my husband will think, discovering the root of that fragrant vegetable sauté he likes so much, or recalling how, with the flourish of a Food Network host, I once explained to him the proper technique for whisking a roux. (I had it down by then.) He's more of a don't-know-don't-tell type about our past relationships.

Early in our relationship, my husband impressed me with his cooking. Sure, his meals were usually nothing more than a stir-fry or a pasta dish, but nonetheless, here was a 30-year-old techie providing sustenance for himself. There was even a dinner party once at his house — but, looking back, maybe it was more of a potluck affair. 

Out at dinner one night, we ordered flan, a delectably sweet custard we'd both had often growing up. I mused that I wished I knew how to make flan, to which he responded that it was no problem at all — the simplest dessert you could imagine. He would make one for me. That may have been the thing that clinched him as The One. That may very well have been the day our courtship ended.

But a year passed without flan. And then another. I spent more and more time in the kitchen, and he spent less. We settled into a domestic routine that felt right to both of us. And while I delighted in serving him my culinary experiments, in the back of my mind I wondered if he'd forgotten how to boil water. 

Flan became a sort of punch line, the funny story I told our mothers over the dish at family gatherings: how my husband misled me with the promise of flan. I devised the most romantic proposal, where he hid the engagement ring in a flan, and even though we might never have gotten the caramelized sugar off of the diamond, we could tell our grandchildren how their grandfather slaved in the kitchen to attain my love.

After four years of marriage, I was still waiting for him to don the apron and get cooking again.

[%image reference-image float=right width=400 caption="When flan is more than a punchline."]And so it was with some reluctance that I recently prepared flan for a friend's party. It was my first time, and I followed my mother-in-law's recipe carefully. She'd once talked me through the steps: the number of eggs and cans of condensed milk she uses, the right flame level for melting down the white sugar into a golden syrup. I admit I'd always been afraid of cooking with hot sugar — something about an ingredient changing form so dramatically terrifies me — but my hesitation with this dessert had been more than that. 

Cooking flan seemed like relinquishing the possibility of my husband making it for me, and in turn owning that sweet memory. But after so much time, how could the flan have withstood our expectation? 

As I ran a knife along the edge of the tube pan, I worried the flan wouldn't emerge intact. My husband grinned nearby, offering moral support. I inhaled deeply, flipped the pan quickly onto the plate, and held my breath as the pan made an intense sucking sound, releasing the flan. Then the miracle: the whole thing perfect, a golden ring draped in auburn sauce. We high-fived in my elation.

[[block(sidebar).

h1.Featured recipe

not making it for me. Bittersweet, perhaps, but then again, so are some of the world's most delicious things.

p(bio). Winner of the Mary Tanenbaum Award, Roxanna Font is a freelance writer and editor based in San Francisco. Her work has appeared in New York Press and is forthcoming in Parents.

reference-image, l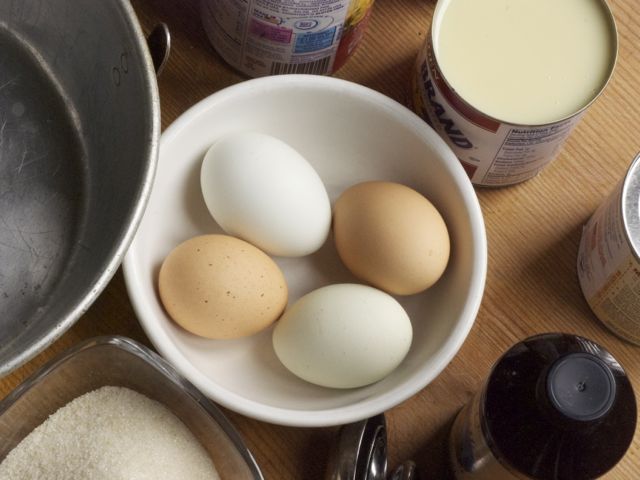 setup, l