Key Lime Pie
(recipe, Matthew Barker)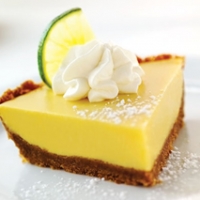 primary-image, l
Introduction
Key lime pie is a tradition for this Floridian. There is a difference between "Key" or "Mexican" limes and "regular" or "Persian" limes although Persian limes can be used in a pinch. Key limes are smaller, more round in shape, thinner skinned, lighter in color, and have a distinct flavor. [this recipe taken from http://www.grouprecipes.com/31432/genuine-florida-key-lime-pie.html#]
Ingredients
1¼ cups graham cracker crums from 9 (2¼-inch by 4¾-inch crackers
2 Tbsp. sugar shopping list
5 Tbsp. unsalted butter, melted
4 large egg yolks.
One 14 ounce can sweetened condensed milk.
½ cup freshly squeezed key lime juice. (about 12 key limes) divided in half.
2 tsp. key lime zest, (green part only)
Steps
Preheat oven to 350F
Stir together graham cracker crumbs, sugar, and butter in a bowl with a fork until combined well, then press mixture evenly onto bottom and up side of a 9-inch (4-cup) glass pie plate.
Beat eggs with electric mixer on medium speed just until thick and turned light yellow, don't over mix.
Turn mixer off and add sweetened condensed milk.
Start mixing on low speed and add half the limejuice mixing just until incorporated.
Add remaining lime juice and lime zest, continue mixing just until blended, only a few seconds.
Pour mixture into pie shell and bake for 12 minutes (Don't over cook or pie will be rubbery).
Remove to rack to cool.
Refrigerate for 1 hour before serving, keep refrigerated.