The polycultural vineyard
(article, Kerry Newberry)
[%adInjectionSettings noInject=true] [%pageBreakSettings nobreak=true] 

p(blue). Culinate editor's note: We extend a hearty welcome to our newest columnist, Kerry Newberry. She's a food-and-wine writer based here in Portland, Oregon. For Culinate, she'll focus on wine — and the stories of the people who make it. Welcome, Kerry!

I've recently become enchanted with winemakers and wine growers who are saluting the past and securing the future by diversifying their farmscapes. 

No longer are these growers confined to staying within the lines. Their vineyard rows, once neat and tidy, are now wildly ablaze with colorful cover crops: crimson clover, golden mustard, purple vetch, and native wildflowers. 

Monoculture, one winemaker told me, is by definition singular and without relationships. Polyculture, the new agricultural buzzword, is monoculture's exact opposite. Polyculture dances with grazing sheep, perky chickens, heritage horses, and frolicking goats — and in one instance, a milking cow named Olga. 

Where, you might ask, have I seen this? It's happening around the globe. From the Willamette Valley in Oregon, where pinot noir mingles with pigs and poultry, to Marlborough, New Zealand, where sheep weed between rows of sauvignon blanc grape vines, wineries are embracing the polycultural philosophy. What's old is new again. 

In today's column, I'll highlight three polyculture vineyards. In May, I'll explore three more.

h3. Ngeringa

The desire to grow biodynamically led Erinn and Janet Klein to a mixed-use farm model at Ngeringa in Mount Barker, Australia. Four years after planting the vineyard in 2001, the couple bought a small herd of Scottish Highland cattle. "We have loved every one of them being with us since then," says Janet.

They introduced sheep in 2007, to feast on grass and ground cover in late winter prior to budburst. The Kleins have also added chickens and guinea fowl, in response to a weevil issue they'd had in the vineyard.

|[%image chickens width=300 caption="Chooks and guinea fowl help with insects in the biodynamic vineyards at Ngeringa Winery in Mount Barker, South Australia."]|[%image cows width=300 caption="Part of the herd of Scottish Highland cattle at Ngeringa Winery."]|

The cows provide manure; the chickens (called "chooks" Down Under) and guinea fowl dine on insects in the vineyard; and the sheep are the sweetest and cheapest form of weed control. Without them, weeding has to be done first by machine and then by hand. "Very expensive — and an unsatisfactory exercise," says Janet.    

In addition to their ark of animals, the couple has a sizeable orchard and vegetable garden that feeds them throughout the year, as well as their workers during harvest. They also sell produce, olive oil, eggs, and meat to some of Adelaide's top restaurants.

"Our mixed farm satisfies our philosophical approach and love of farming, which brings great value to us personally," says Janet. "Most importantly, our way of farming brings with it a huge benefit in us being able to successfully grow quality biodynamic grapes, predominantly through pest and weed control and significant benefit to nutrient recycling and soil health."

The Springtime Sipper: 2009 Rosé. A Syrah-based blend, with 15 percent Sangiovese, this rosé gains complexity from fermenting and maturing for six months in old French oak barrels. Pair it with a hard chèvre or a ripe, soft Brie as an appetizer, or with guinea hen roasted with orange and sage.

h3. Seresin Estate

Since 1999, growing olives has been an integral part of the organic and biodynamic Seresin Estate in Marlborough, New Zealand. The three winery properties are planted with 7,000 olive trees — all imported Tuscan varieties. 

The intent at Seresin Estate was always to be diverse. The olives were planted soon after the grapes, and the animals (initially sheep) have been at the Home Vineyard for 10 years now. 

|[%image horse width=300 caption="Stuart the horse helps to spray biodynamic preparations on the vineyards at Seresin Estate in Marlborough, New Zealand."]|[%image compost width=300 caption="Steaming compost on a frosty winter morning at Seresin."]|

Resident denizens of the mixed-use farm and vineyard now include six cows (including the milking cow, Olga), 52 sheep, 38 chickens, six ducks, two horses, and four beehives. The sheep population peaks at about 900 in winter. WWOOFers help during the busy times, traveling from across the globe to take part in the fantastical farm and vineyard.   
 
The "other" crops of vegetables, fruit, and herbs provide diversity to the farm and meals for staff. "They enable us to eat fresh and seasonally, and help to fill us with the energy of our land," says marketing manager Moir Laird. "Diversity is not about seeking a simple input solution, but the recognition that a natural system is more like a web." 

The Springtime Sipper: 2009 Sauvignon Blanc. This wine tastes like summer in a glass. Pair it with fresh goat cheese, grilled shrimp, or ceviche.

h3. Big Table Farm

When the winemaker Brian Marcy and his artist wife, Clare Carver, moved from California's Napa Valley to Oregon in 2006, their goal was to plant a vineyard. 

[%image reference-image float=right width=400 caption="Pig and pinot at Big Table Farm."]"We've always had a real passion for food and growing food," says Carver. Even in the town of Napa, they had a victory garden and backyard chickens. "But what really changed things — no surprise — is we read The Omnivore's Dilemma while we were moving," she says. "We completely got the book." After turning the last page, Marcy said, "Hey, let's buy a farm!"

[%image clare float=right width=300 caption="Clare Carver and two porcine friends enjoy the moment at Big Table Farm."]The bucolic 70-acre property and lilac-hued farmhouse they bought in Gaston, Oregon, was never intended to be a working farm — it was purchased with vineyards in mind. Today, though, Big Table Farm is a full-fledged farm and winery with a vineyard on the way. 

"While we were buying grapes, we started buying chickens and cows," says Carver. "It turned out it was something that we could do incrementally." 
 
While Marcy makes wine, sourcing grapes from some of the top vineyards in the Willamette Valley, Carver tends to a growing menagerie of pigs, heritage Irish Dexter cows, free-range grass-fed chickens, and most recently, bees for honey and goats to mow the south-facing slope of the soon-to-be-vineyard. She sells fresh and cured meats to locals and treks eggs in weekly to Portland for an "egg drop" for residential customers (a porch pick-up) and drop-offs at some of the city's best restaurants.
 
The sustenance found on the farm extends well beyond food. Carver has designed dozens of wine labels (including their own), and her artwork over the past few years has been inspired by — you guessed it — the beauty and charm of life on the farm. 

The Springtime Sipper: 2009 Pinot Noir Resonance Vineyard. Only 190 cases were produced of this wine made from biodynamically grown grapes. It's a supple wine to pair with grilled salmon and spring-into-summer nights.

chickens, l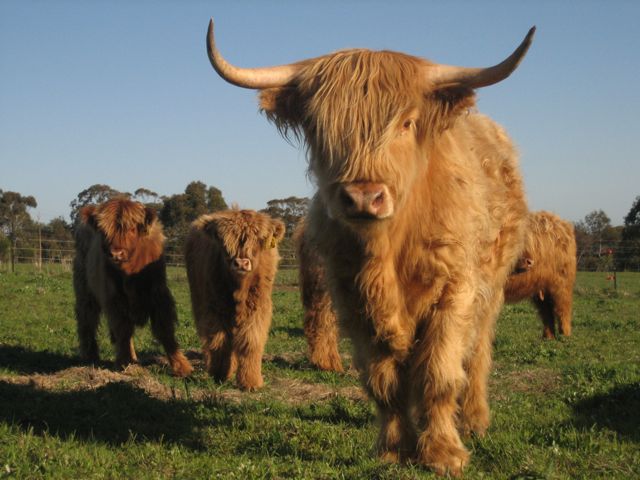 cows, l

horse, l

compost, l

clare, l

reference-image, l