Hamantaschen
(recipe, Shoshanna Cohen)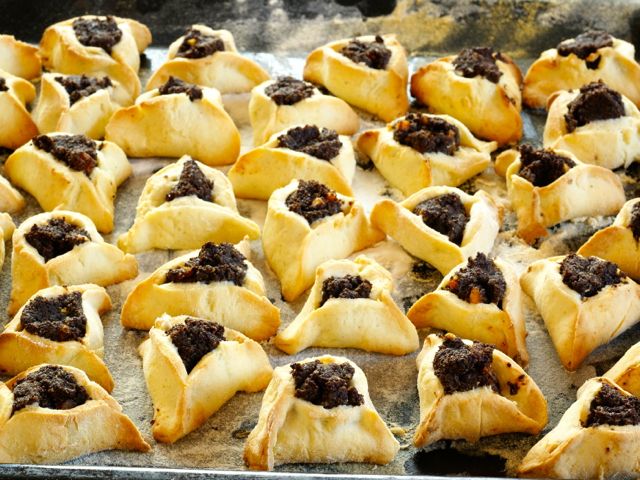 primary-image, l
Ingredients
4 cups flour
1 cup sugar
2 heaping teaspoons baking powder
½ scant teaspoon salt
4 eggs
⅓ (generous) cup oil
Grated zest of 1 orange
2 12.0 oz. cans poppy seed, apricot, or prune filling (see Note)
Steps
Preheat the oven to 375 degrees. Grease cookie sheets.
Sift together all the dry ingredients in a large bowl. Make a well in the dry ingredients and add the eggs, oil, and orange zest. Mix well until the dough leaves the side of the bowl and sticks together in a ball (you may need to use your hands).
Take the dough, a third at a time (keep the rest covered so it won't dry out), and knead it lightly until smooth. Roll it out ⅛-inch thick (sort of thin) and cut it into rounds using a cookie cutter or drinking glass.
Drop a spoonful of filling into each round, and pinch together to make a triangle shape. Bake the cookies on the greased cookie sheets until brown, 15 to 30 minutes.
Note
Look for Solo brand poppy seed filling, apricot filling or prune filling in 12-ounce cans.