Plate & Pitchfork plenty
(article, Carrie Floyd & Kim Carlson)
Every community should have Plate & Pitchfork. A series of summer dinners held on farms in the Portland area, P&P is undoubtedly a logistical bugaboo for the organizers, Erika Polmar and Emily Berreth, as well as for the farmers, the chefs, the winemakers, and the legions of volunteers who make it all happen. They're working at the whim of the weather, after all, and this summer in Portland, the weather was cooler than usual and more unpredictable, too. 

[%image "tables" float=left width=400 caption="Every P&P dinner is unique, from the setting to the food and drink."] 

For the guests who attend the dinners, however, it's pure pleasure. From the moment you arrive to sample an intriguing appetizer and delicious glass of wine (or, in food editor Carrie Floyd's case, a red pepper, mint, and gin cocktail made on the spot by House Spirits), to the evening's end, when you make your way from the farm tables to your car by starlight and the glow of some well-placed lanterns, a Plate & Pitchfork dinner is a feast for the senses.

This year we attended two dinners, each with different chefs, wine, and farmers. But all of the dinners share a common theme: celebrating the magnificence of our local harvest and the talent of our local chefs and winemakers. These dinners celebrate the bounty of the farms where the growing takes place.

[%image soup width=400 float=right caption="Peach-tarragon soup was a refreshing first course."] 

All the Plate & Pitchfork dinners include a farm tour, a question-and-answer session, and so much lovely food that you can't believe your good fortune. 

Editorial director Kim Carlson's dinner, in July, was prepared by a stable of talented Bon Appétit chefs; wine was by Patton Valley Vineyards and Brooks. Dinner began with peach-tarragon soup; it was followed by pork rillettes, fresh grilled albacore with raspberries and greens, melt-in-your-mouth lamb osso buco alongside pasta tossed with summer squash, and finally, a mixed-berry tart for dessert. 

Carrie's dinner, in mid-August, was prepared by Jenn Louis of Culinary Artistry and Rodney Muirhead of Podnah's Pit Barbecue. The meal segued from buttermilk cucumber gazpacho to a salad of unbelievably sweet tomatoes with goat cheese and pickled onions, followed by a mélange of smoked salmon, corn, green beans, and cherry tomatoes, to an entrée of grilled lamb with a tomato-cinnamon sauce and ratatouille; dessert was a warm Gravenstein apple crisp with crème fraîche. 

[%image "promo-image" width=400 float=left caption="Emily Berreth (left) and Erika Polmar are the organizers of Plate & Pitchfork."] 

In both cases, much of the produce we ate came from the farms where the dinners were held: Smith Berry Barn, in Kim's case, and Sun Gold Farm, in Carrie's.

Here's why we think every community should have P&P: Because good food should be celebrated, because most people need farmers to feed them, and most farmers need buyers who take an interest in their efforts. Of course, not every farm dinner needs to be a multi-course feast, and honestly, the P&P dinners are a splurge. But however it's done, we hope for more of these kinds of dinners in more communities across the land. 

Erika and Emily, we salute you — and all the farmers, chefs, and wine-and-spirits makers who came together to make this season's dinners spectacular. We can't wait until next year!

Elsewhere on Culinate: A review of two books about farming, and an article about community-supported agriculture.

promo-image, l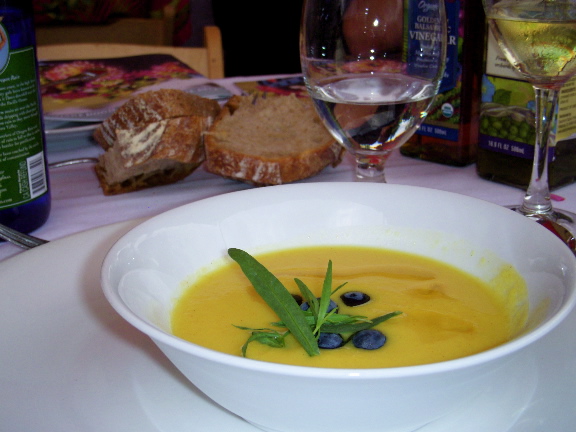 soup, l

reference-image, l

tables, l