Fish for a crowd
(article, Michael Straus)
[%adInjectionSettings noInject=true][%pageBreakSettings nobreak=true] 

After 20 years promoting organic food and sustainable agriculture, I found myself becoming increasingly cynical about the broader impacts of the food-reform movement. So I closed down my business, sold off my belongings, put on my backpack, and headed to Asia, where I hoped to gain a broader perspective on the environmental and social issues enfolding our planet. It was time to bust myself out of the Bay Area eco-foodie bubble, to which I had grown so accustomed that I believed it wasn't even a bubble.  

It didn't take long. Soon I was venturing into Burma, where I wanted to experience and learn about the plight of the indigenous Hill Tribes of the Golden Triangle (Burma, Thailand, and Laos). 

I had encountered a few tribespeople while traveling in Thailand. Many were in refugee camps; some, like the Long Neck tribes (the ones with necklaces that lengthen their necks), had become tourist attractions. In rapidly modernizing Southeast Asia, I wondered whether the fate of these indigenous peoples would be similar to that, say, of the Native Americans.

[%image boys float=right width=400 caption="Burmese boys."]

As dawn broke on my second day, I was struggling to digest and make sense of the complex social, economic, and political realities in which these people survived. It was still months before the much-publicized (and largely condemned) '"democratic", but military security measures were already tightening, including travel restrictions, ubiquitous military and police checkpoints, daily curfews, and Internet censorship. All too quickly, I came to understand that the Hill Tribes — as has been the fate of indigenous peoples around the world — had been relegated to the margins of society.

Though many communities of the 135 distinct ethnic groups of the Hill Tribes still practice beautiful, ancient rituals and traditions — such as worshipping fertility gods and, in some cases, living in large barn-like structures with no walls between a dozen or so extended family units — their unique heritage is rapidly disappearing. In just the past 10 years, the majority of the 150 or so tribal villages in the region have stopped one of their most visible traditions: wearing colorful clothing rich with religious and cultural symbolism.

Every morning before we started, my guide and I would head over to the local market and stock up with small gifts to take with us to the villages we'd be visiting. First on our list would be a small supply of medicines, which we would dispense to the seemingly endless stream of villagers approaching about their ailments (my guide was the only "doctor" many of them would see); cookies that we'd distribute to the excited children, two wafers each; cigarettes for the village chief; and today, about four pounds of dried, salted fish.

[%image chief float=left width=300 caption="The village chief distributing dried fish."]

After about a four-hour drive, we hiked three more hours into hills covered in old-growth forest, to visit one small village. As it turned out, this particular village was very, very poor. Twenty-three families were scraping by. The crops had failed due to changes in the rain patterns, and the animals that they had hunted were disappearing, the result of clear-cutting conducted by the government-backed logging industry.

We climbed a narrow set of wooden planks, ventured through a small doorway, and sat on mats in the chief's home. Many villagers joined us as we sipped tea made of herbs picked from the forest. Cigarettes were passed and smoke quickly filled the thatched-roof room.

Then we pulled the fish from our daypacks. For a moment, the place went completely silent. Then a flurry of activity broke out, as the children scampered home to get bowls. When they returned, we formed an ad-hoc fire-bucket brigade, passing small metal or plastic soup bowls to the chief and back again to the families. Into each bowl the chief carefully distributed about eight fish. Eight tiny fish, mind you, each no more than about three or four inches long. Moments later, the crowd dispersed, going home to prepare the evening meal: rice, a little dried red pepper, and a hint of fish.

Only a few months earlier, I had been running media campaigns about sustainable seafood, focusing on issues of wild versus farmed fish and endangered fisheries. Now here I was, trying to wrap my head around an entirely different level of sustainability: the ability of a community to feed itself. 

[%image rice float=right width=300 caption="Growing food in Burma."]

Largely disenfranchised by geography, tradition, lack of education, and the lack of a common language, Hill Tribe villagers live hand-to-mouth, subsisting on the crops they grow and selling any excess at local markets. Cash-poor and with minimal or, at best, inconsistent aid from local authorities, they have few resources to reinvest in their communities. 

Some indigenous villages are more prosperous than others. In these towns, the people were happier, healthier, and smiled more. In those communities, there was one common thread: good infrastructure. In years past, international nonprofit organizations (better known as non-governmental organizations, or NGOs) had provided funding to build good sanitation and communal toilets; central water-supply systems; and clinics and schools. In recent years, however, the Burmese government had banned most NGOs, cutting off crucial funding and aid.

What would it take to help some of these villages? I asked, and soon I was provided with a portfolio of detailed, handwritten spreadsheets outlining the costs for "shovel-ready" development projects in many communities. All that was needed was the funding to purchase the necessary building materials. The communities had already agreed to provide the labor. 

Community toilets with a lifespan of 20 years: $100 each. A freshwater supply system: $500. Community vegetable gardens for 70 families: less than $300 total. There were also detailed plans for an orphanage and school. 

With a quick calculation, I realized that completing all of the projects in the portfolio — benefiting seven villages and hundreds of people — would cost less than $20,000.

So I decided to start the fundraising myself. To date, this Burma project has raised more than $5,000, nearly all of which will go directly to construction.

Perhaps American poet Emma Lazarus, in '"The best captured what I felt in the depths of my stomach as I hiked out of the jungle that day in June: "Until we are all free, we are none of us free."

p(bio). Michael Straus, of the pioneering organic Straus Family Creamery, founded Straus Communications, one of the first "green" PR agencies. Straus is currently traveling throughout Asia, working as a contributing editor for the eco-travel site Green Traveler Guides. He blogs regularly and can be reached at Michael@StrausCom.com. (Photo of three boys courtesy Victoria Vorreiter.)

p(green). Editor's note: If you'd like to join Culinate in contributing to Michael Straus's effort in Burma, visit his website.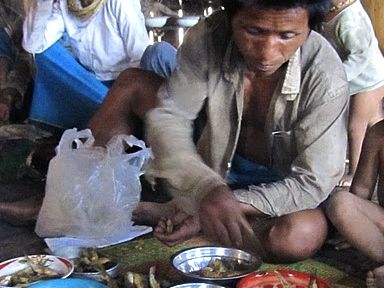 reference-image, l

rice, l

chief, l

boys, l