Intensely Chocolate
(book, Carole Bloom)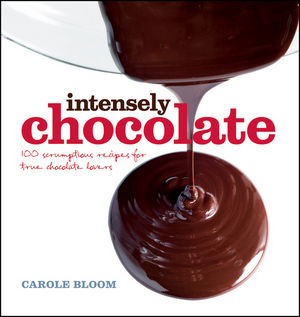 primary-image, l
h4. From the publisher

A tantalizing collection of dessert recipes for true chocolate lovers: Chocolate lovers have more and more ways to get their fix with high-cacao, high-quality chocolate beckoning from grocery shelves all over the country. Intensely Chocolate offers luscious recipes for cakes, brownies, muffins, tarts, cookies, custards, candies, and frozen desserts that will make any chocolate lover drool. Here, you'll find new ideas, and classics even better than you remember them. From bittersweet high-cacao content to chocolates mixed with fruits, nuts, spices, and more-there's almost no limit to what you can do with chocolate. Intensely Chocolate gives you the ideas and guidance to turn this beloved ingredient into splendid desserts.

100 recipes cover beloved favorites like Individual Molten Mocha Cakes and exciting new ideas like Chocolate-Passion Fruit Ganache Tart.

This lushly illustrated book also includes helpful information on available ingredients and how to use them.

These recipes are perfect for today's high-quality chocolate, but simple preparations put these unforgettable treats within easy reach.

For anyone looking for a new twist on their favorite dessert or creative ideas for using high-quality artisan chocolates, Intensely Chocolate is the essential guide to the world's favorite confection.
Cocoa-Banana Muffins
Salted Caramel-Bittersweet Chocolate Sauce
Bittersweet Chocolate-Salted Caramel Truffles