Mango and Chicken Summer Rolls with Soy-Mango Dipping Sauce
(recipe, Rachel Rappaport)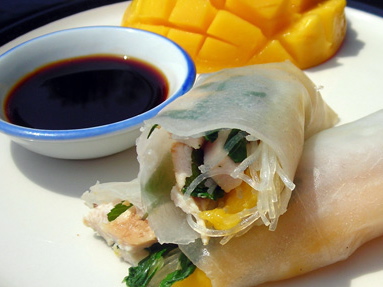 primary-image, l
Introduction
For this recipe, I like to use a mango with medium fiber and a strong fruity flavor. The ubiquitous Tommy Atkins variety — the ones often labeled simply as "mango" at the grocery store — are a good choice, but I also enjoy using the Haden, Palmer, Bombay, or Pruter varieties as well. The slightly higher fiber content of these mangoes results in slices that hold their shape well, and their sweetness gives the rolls a rich, tropical flavor.
Ingredients
Rolls
1 lb. boneless, skinless chicken breasts
1 mango, cut into long strips
Rice-paper wrappers
6 oz. bean-thread noodles
Fresh mint
1 cup steamed bok choy, sliced
Marinade
2 Tbsp. olive oil
2 Tbsp. mango nectar or juice
1 tsp. dark soy sauce
2 Tbsp. rice vinegar
5 cloves of garlic
1 onion, roughly chopped
1 tsp. salt
1 tsp. ground chipotle pepper
1 tsp. light brown or palm sugar
Juice of one lime
Freshly ground pepper to taste
Dipping sauce
3 Tbsp. mango nectar or juice
3 Tbsp. fresh lime juice
1 Tbsp. dark soy sauce
½ tsp. minced ginger
Light brown or palm sugar, to taste
Steps
First, whisk the marinade ingredients in a small bowl. Place the chicken in a resealable plastic bag, add the marinade, and marinate the chicken in refrigerator for at least 30 minutes but not more than 24 hours before you want to make the rolls.
Meanwhile, whisk together the ingredients for the dipping sauce until the sugar dissolves, and set aside.
In a medium-sized saucepan, bring water to a boil. Boil the bean-thread noodles for 5 minutes, drain in a colander, and immediately run under cold water to stop the cooking process. Cut noodles into bite-sized pieces. Set aside.
Grill or sauté chicken breasts until cooked through, turning once halfway through cooking time. Remove to a cutting board and slice into ¼-inch slices.
Fill a wide bowl or pot with warm water. Each rice-paper wrapper must be soaked individually. For each roll, soak a wrapper until pliable and soft. Remove the wrapper and spread out on a clean surface.
Put 1 ounce of noodles in the middle of the wrapper. Add a portion of the bok choy, followed by a few slices of chicken and mango, and sprinkle with mint leaves, leaving space on all sides. Fold the rice-paper wrapper from both sides in toward the middle, then lift the end closest to you and roll away from you, grabbing all of the filling, and roll until the spring roll is closed. Repeat with remaining ingredients.
Stir together dipping-sauce ingredients. Serve rolls at room temperature with dipping sauce.
Note
Rice-paper wrappers are sometimes labeled "spring-roll wrappers." Not to be confused with refrigerated egg-roll wrappers, these are not refrigerated and are round, brittle, and translucent. Get more tips for mangoes in Rachel Rappaport's how-to article.