Cream of Parsnip Soup
(recipe, Russ Parsons)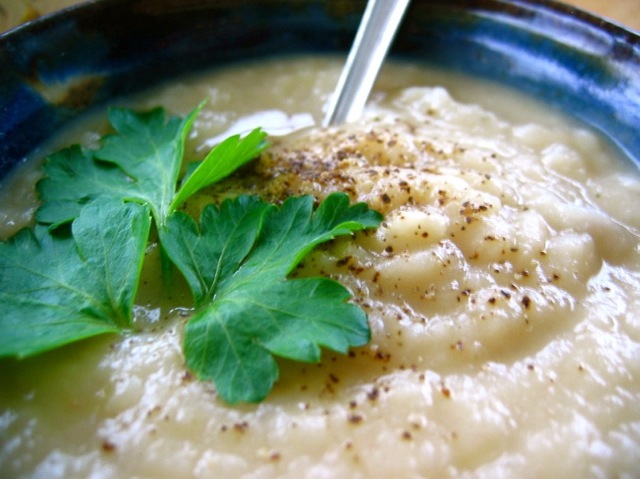 primary-image, l
Introduction
This is a somewhat plainer version of a recipe by the San Francisco chef Jeremiah Tower. (He garnishes his version with shaved white truffles.) It's also really, really good with sour cream.
Ingredients
1 lb. parsnips
1 Tbsp. butter
1 onion, chopped
1 medium boiling potato, peeled and diced
Salt
3½ cups water, plus more if needed
1 sprig tarragon
1 sprig parsley
¼ cup sour cream
Steps
Working lightly with a vegetable peeler, peel the parsnips, then cut off the bottoms and tops. Continuing to use the vegetable peeler, cut away and save the rest of each parsnip down to its woody core, catching the thin slices in a wide pot. The color of the vegetable will change from creamy white to ivory when you get to the core. Discard the core.
Add the butter, onion, potato, and 1 teaspoon salt to the pot, along with ⅓ cup water. Place the pot over low heat, cover it tightly, and cook slowly, "sweating" the vegetables until they begin to become tender, about 15 minutes. Stir from time to time to keep the vegetables from sticking and scorching. If necessary, add a little more water.
Add the tarragon and parsley and continue to sweat for another 5 minutes. Add 3 cups water, increase the heat to medium, and cook, uncovered, until the vegetables are completely tender, about 10 minutes.
Discard the tarragon and parsley sprigs and, using a slotted spoon, transfer as much as you can of the solids from the pot to a blender. With the lid of the blender removed, pulse to chop the vegetables. If necessary, add a little water. Once the vegetables are chopped, blend on the lowest speed and gradually work your way up to the highest. At first the vegetables will jump up the sides, but then they'll subside and remain at much the same level no matter the speed of the blender. With the motor running, add the rest of the liquid and any vegetables left over in the pot and purée until completely smooth.
Wipe out the pot to remove any bits of vegetables, then pour the puréed soup back into it. Heat through over low heat. Taste for salt.
Beat the sour cream with a spoon to soften it. Divide the soup among four warmed soup bowls, drizzle in a bit of sour cream in a decorative pattern, and serve.
Note
If you have an immersion blender, use it to purée the soup directly in the cooking pot instead of transferring the liquid to a separate blender.