Off to Napa they go!
(article, Mark Douglas)
After 12 entertaining days, the Culinate GrillMe contest trip for two to Napa Valley has produced two lucky winners. Each winner and a guest are off to Napa in August and will attend COPIA's "Mastering the Grill" class.

We congratulate Graeme Williams of Waltham, Massachusetts, who was the regular drawing winner, and Deb, of the food blog Smitten Kitchen, who was voted by our readers as the winner among all the terrific food bloggers nominated. 

[%image graphic width=400 float=right]

We received more than one note from entrants and bloggers indicating that they would not wait for the contest to close and signed up for the class on their own. I can't say that I blame them — a little time in Napa during August sounds about perfect. (Graeme and Deb: Call us if you need some company — there's a line forming at the door.) 

Here at Culinate, we have been so pleased with the contest feedback that we hope to follow up soon with a series of similarly great destinations and cooking events.

So, stay tuned . . . and, if you get a chance, sent a note to Deb at Smitten Kitchen to say congratulations.  

Finally, here's a big thank-you to all our co-sponsors, who helped make the GrillMe contest possible: COPIA, Chronicle Books, Powells.com, and Southwest Airlines.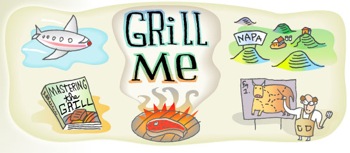 graphic, l

reference-image, l