Field Guide to Candy
(book, Anita Chu)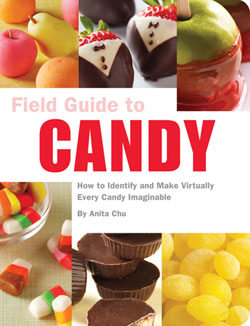 primary-image, l
h4. From the publisher

What puts the crunch in buttercrunch toffee? How do you cook the perfect raspberry chocolate truffle? What's the secret to making lollipops and lemon drops? Discover these answers and more in Field Guide to Candy, a handy pocket reference to more than 100 recipes, complete with serving suggestions and fascinating historical trivia (in the 1940s, gumdrop cakes were among the most popular desserts in America). 

Field Guide to Candy includes traditional favorites and exotic treats from all over the world, everything from peanut-butter cups and salt-water taffy to pastelia (Greek honey candy) and Turkish delight. Each candy is photographed in glorious full color, with step-by-step instructions on how to prepare, make, serve, and store your creations.