Dorothy's Honey Cake
(recipe, Miriam Wolf)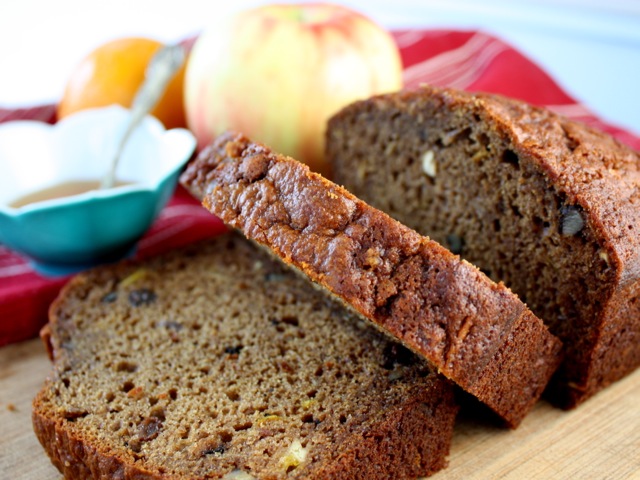 primary-image, l
Introduction
My mother, Dorothy Wolf, made this honey cake every autumn for Rosh Hashanah. The recipe, which had been passed down through her family, incorporates a full cup of honey; the resulting cake is moist and a deep golden color.
Ingredients
1 medium apple
1 medium orange
1½ cups brewed coffee, or 1 cup brewed coffee and ½ cup sweet red wine, such as Manischewitz
4 cups flour
1½ Tbsp. baking soda
1 tsp. baking powder
1½ tsp. allspice
1½ tsp. cinnamon
½ tsp. cloves
½ tsp. salt
4 eggs
1 cup sugar
1 cup oil
1 cup honey
½ cup raisins
½ cup walnuts
Steps
Grate the apple and orange, including the peel but discarding seeds and stems. Add the coffee or coffee-and-wine combo.
Preheat the oven to 350 degrees. Line a large, heavy, ovenproof skillet or two 9-by-5-inch loaf pans with heavy foil or parchment paper.
In a medium bowl, sift together the dry ingredients.
In a large bowl, cream together the eggs, sugar, and oil. Add the honey.
In ½-cup increments, and alternating between the two, add the sifted flour mixture and the fruit/coffee mixture to the eggs/oil/sugar mixture. Stir in the raisins and the walnuts.
Scrape the batter into the prepared pan(s). Bake for 60 minutes, until a toothpick inserted in the middle comes out with just a few crumbs clinging to it. Let cool for 10 minutes before inverting onto wire racks to finish cooling. Cut into slices to serve.