Fettuccine with Figs and Chiles
(recipe, American Institute for Cancer Research)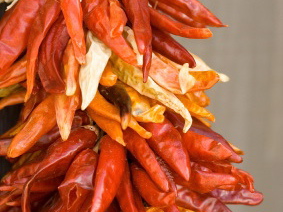 primary-image, l
Introduction
In this dish, a rich, mellow sauce brings together fresh figs with whole-wheat fettuccine. The figs add an earthy sweetness, while lemon and chiles give this sweetness an exciting edge. It takes strong flavor to bring out the best in whole-wheat pasta, and this exquisite sauce does the job.
Ingredients
8 fresh black Mission figs, rinsed, dried, and stems removed
2 lemons
½ cup plain fat-free yogurt
12 oz. whole-wheat fettuccine
2 Tbsp. olive oil
2 dried chiles (use any medium-heat chile, such as ancho), seeded and finely chopped
Salt and freshly ground black pepper
¼ cup freshly grated Parmesan cheese
A few springs of fresh mint or flat-leaf parsley as a garnish
Steps
Cut figs in quarters or eighths, depending on size. (You'll have about 10 to 12 cups, depending on the size of the figs.) Place figs cut-side up on a plate.
Grate the zest of both lemons and squeeze the juice of one lemon. Stir the lemon zest and juice into the yogurt and set it aside.
Cook the fettuccine in a large pot of boiling water until just tender.
Meanwhile, in a large nonstick skillet over medium heat, heat the olive oil. Add the figs and chile pieces and sauté for about 3 minutes, stirring constantly. Season to taste with salt and pepper. Continue to sauté for 1 minute. Remove the skillet from the heat.
Drain the fettuccine. Return to pot. Stir in the lemon and yogurt mixture and the Parmesan cheese. Transfer pasta to a serving platter and spoon the fig-and-chile mixture over the top. Garnish with the sprigs of mint or parsley and serve immediately.