Top | Pies and Tarts, Crisps and Crumbles
Stone Fruit Crisp
(recipe, Caroline Cummins)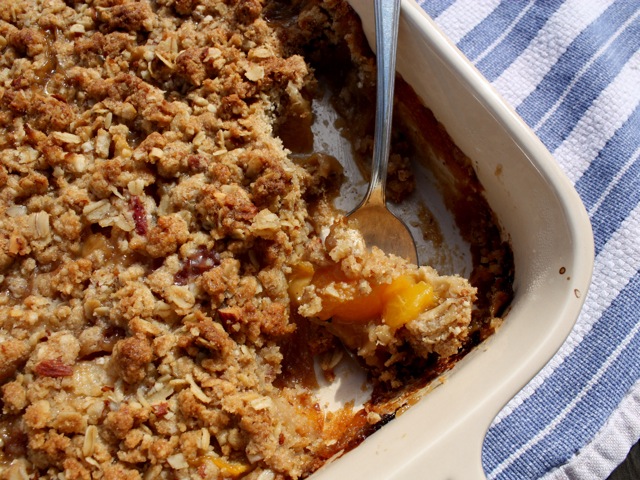 primary-image, l
Introduction
Halfway between the austere fruit purity of Blackberry Peach Almond Crumble and the richer, sweeter Plum Crunch, this crisp (leave out the oats and call it a crumble if you like) is easy, versatile, and reliable.
Ingredients
Filling
2 lb. fresh or frozen sliced peaches, plums, apricots, or cherries (for example, about 6 large peaches)
¼ tsp. almond extract
½ tsp. ground nutmeg
1 Tbsp. kirschwasser, brandy, Cointreau, or other similar liqueur
½ to ¾ cup lightly packed brown sugar (use more or less sugar, depending on how sweet your fruit is)
¼ cup unbleached all-purpose flour
Topping
¾ cup unbleached all-purpose flour
½ tsp. kosher salt
½ to ¾ cup lightly packed brown sugar
¾ cup rolled oats
½ cup chopped almonds (see Note)
6 to 8 Tbsp. (¾ stick to 1 whole stick) cold unsalted butter, cut into small cubes
Garnish (optional)
Freshly whipped cream or vanilla ice cream
Steps
Toss all the filling ingredients together in a large bowl and set aside to macerate for a bit. (If the fruit is still frozen, let it sit for an hour or so to defrost.)
Preheat the oven to 375 degrees.
Mix all the dry topping ingredients together in another bowl. Using a pastry blender, a fork, or your fingers, cut the butter bits into the dry ingredients until the butter is the size of tiny peas.
Spread the filling across the bottom of a 8-by-11-inch baking dish. Evenly distribute the topping over the filling.
Bake for 40 to 50 minutes, until the filling is thick and bubbly and the topping is golden and browned. Serve warm or at room temperature, with whipped cream or vanilla ice cream on top if you like.
Note
Walnuts or pecans work well in place of the almonds, but the almonds — since they're stone fruit themselves — work best. Grinding the nuts in an electric nut chopper makes for a more delicate crisp, but chunky nuts are also tasty. You can also use this recipe for a different version of rhubarb crumble or crisp. Add 1/2 tsp. ground ginger to the filling, if you like, and use the full 3/4 cup sugar in the filling as well as in the topping. Garnish with a bit of plain yogurt flavored with a little vanilla extract.