Top | Views from the Carrot Condo
Vegan Thanksgiving
(post, Trista Cornelius)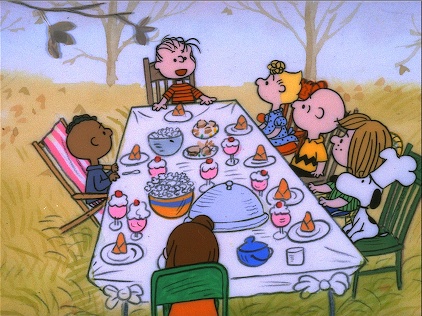 primary-image, l
A few people asked me to describe how a vegan celebrates Thanksgiving.  Truthfully, I long for traditional food for Thanksgiving.  So, although I feel I should try to impress you with tales of rich, thick squash sauce over noodles, roasted kobucha with kale, and grain salad with curry dressing (all of which make regular appearances at our dinner table on "normal" nights), I have only familiar staples sans dairy and meat to describe to you for the holiday.  

Because of my craving for tradition, my man and I have started making our own Thanksgiving dinner on the Friday after.  I call it our Vegan Charlie Brown Thanksgiving.  Remember the show?  Snoopy makes toast and popcorn, and someone brings jelly beans?  I like the hodgepodge feast they create, even though their table leaves much to be desired.  This year, we invited my best friend and my cousin to join us.  I bought a Turtle Island Tofurky from Hood River, Oregon and a Field Roast from Seattle, Washington. The Tofurky is a soy-based, seasoned, meaty substance shaped like a small roast and filled with wild rice stuffing.  The Field Roast is the same idea, but made with seitan, grains, and vegetables and filled with a more traditional stuffing.  Both bake all day, just like a turkey, and require basting with veggie broth; the thick cuts of carrots and potatoes we add absorb the excess liquid and spices and caramelize.  

My man "carves" these delicately into thin slices of faux meat.  Both are salty and rich with a meaty texture.  In fact, this year, the Tofurky felt so meaty to my tongue that I lost a little of my love for it!  The field roast, however, still shows bits of lentils that assure me of its plant-based origins.  

To accompany this, we mashed potatoes with miso as we'd read about here at Culinate--a delicious idea!  For reasons we have yet to figure out, however, the potatoes turned out soupy.  We think they absorbed too much water while boiling?  They went from thick and creamy with a deep miso flavor to just as tasty but the consistency of a pureed soup!

Whole wheat baguettes, celery, onion, crimini mushrooms, and veggie broth turned into stuffing doused in shitake mushroom gravy. I'd wanted to roast squash with kale, too, but our oven broke a few days ago.  The thermostat went out, so it heats to as hot as it will go, like a kiln.  Apparently, the part we need is no longer made, so the whole oven needs to be scrapped and replaced.  We can't do this, so my man baked everything in the little side warming oven (and the light went out on it!)!  We borrowed an oven thermometer from my mom, heated the main oven to 350 then turned it off, then back on again when it dipped too far below 350, then off again and managed to roast a some kale, my newest obsession.  Kale, chopped and tossed with a little oil and salt then roasted, turns into crispy, green, potato-chip-like treats.  I can eat an entire cookie sheet full!  

For dessert, we bought a whole wheat, vegan pie crust and filled it with a pumpkin and soy milk mixture that turned into the most perfect pumpkin pie I've ever seen!  The filling came out smooth, not watery or stringy, each slice holding its shape, the dark orange color tasting just as spicy and sweet as it looked.  

My cousin brought a vegan chocolate pecan pie as well as a spinach strudel, and we feasted!  

Finally, I should note that my man made the whole meal himself, including the pie, with only the little warming oven to use and while suffering an attack of painful gout.    

Next year, perhaps, I'll make a truly vegan Thanksgiving feast--no faux meat--to showcase how filling and diverse plant-based meals can be.  For now, I'm happy to have a fridge full of leftovers!  


PS:  For the actual day of Thanksgiving this year, we joined my parents for a non-traditional meal, since we were such a small pairing.  My mom made a healthy stir fry with sweet potatoes, beets, zucchini, bean sprouts, and tofu marinated in ginger and soy sauce.  She pulled the beets right out of her garden, and their deep magenta stained all of the other vegetables pink, making them look exactly like  sweet and sour pork!  Small slices of fresh oranges marinated in cinnamon, honey, and lemon joined romaine lettuce, fresh mint, and roasted walnuts for salad.  For the meat-eaters, my mom marinated small pieces of chicken in buttermilk and rolled them in cracker crumbs to make oven-baked chicken fingers.  

We had pumpkin pudding made with tofu and a pumpkin from the garden, Rice Dream ice cream, and Dreena Burton's caramel pecan blondies for dessert.  Pecans roasted in real maple syrup and a tiny bit of oil and salt nestle into the top of a blonde brownie batter made from soy yogurt and spelt flower, which gives them a brownie-like chewiness.  Both times I've made these blondies, only a tiny strip remains and only because we're too embarrassed to actually eat the whole pan in one sitting.