preserving under duress
(post, Katherine Deumling)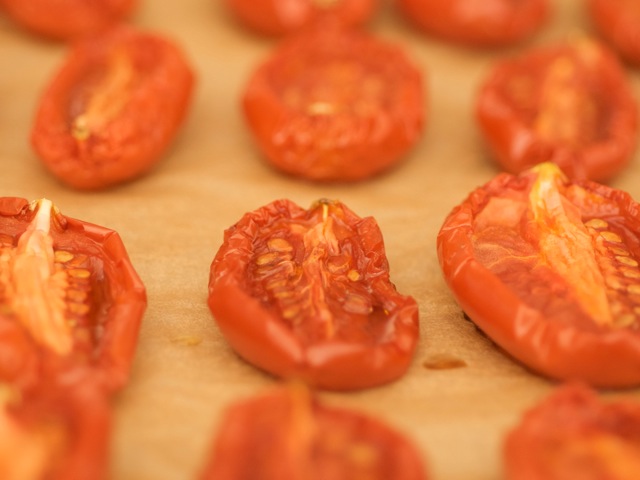 primary-image, l
I intended to write this post nearly six weeks ago--on the day of the action but so it goes. My kitchen was under construction from mid-August until late October which meant that I had only limited access to my stove and a temporary sink (thanks to my dear brother who was also the contractor and did everything in his power to make this construction period manageable for someone who likes to cook three meals a day and has a toddler who eats constantly). This time period coincided with much of the season's bounty and my preserving abilities were severely limited. One day, however, a friend emailed with news of cheap, end-of-the-season roma tomatoes and I couldn't resist and instantly replied with an "order" for 20lbs! I did not think about how i was going to manage very ripe tomatoes in this quantity in my state of disarray--plaster and sheet rock dust, access to the basement only by rickety ladder, etc. 

I picked up my tomatoes and realized the only thing i could do was slow roast them, cut in half and drizzled with olive oil and salt, overnight on cookie sheets, and then freeze them. This would have to happen three nights in a row since the power was usually out during the day, so no stove! I've used this roasting method in the past and love it. i put the cookie sheets into the freezer post roasting until the tomatoes are firm and then freeze them in bags or containers. they're wonderful to have all winter to use in quesadillas, grilled cheese sandwiches, sauces, soups, etc.  

So at noon the day after the first slow roasting night my toddler and my four-year old niece who happened to be spending a few hours with us, were each in a chair at the table eating their lunch. My brother and his right-hand man were hanging sheet rock on the ceiling and i thought i could escape to the basement, via that rickety ladder, with my freezer bags to take the first batch of tomatoes off their sheets and get a second batch in the oven while I had power. I told my brother I'd be in the basement for just a minute or two. 

To make a long story short, I couldn't get the tomatoes off the sheet pans with my hands, and as I was trying to pry them off with my finger nails I started hearing shouts from upstairs. I was determined to return upstairs with empty pans so I looked around for any implement that might help me and grabbed a chisel from the pile of tools within arms reach of the freezer. I momentarily wondered if I would do more damage to the chisel or my sheet pans but whacked away at each tomato, escalating howls and sounds of chaos coming from above. I succeeded to deeply scratch the pans and  never told my brother why his chisel was oily and salty and tomatoey. I managed to finally get all tomatoes into bags and ran upstairs.. . .  I found two very messy children, not in their chairs and hard boiled egg "shrapnel" in my dining room for days!