Tea Steamed Stuffed Peppers, Wisco Style
(recipe, Quinn Losselyong)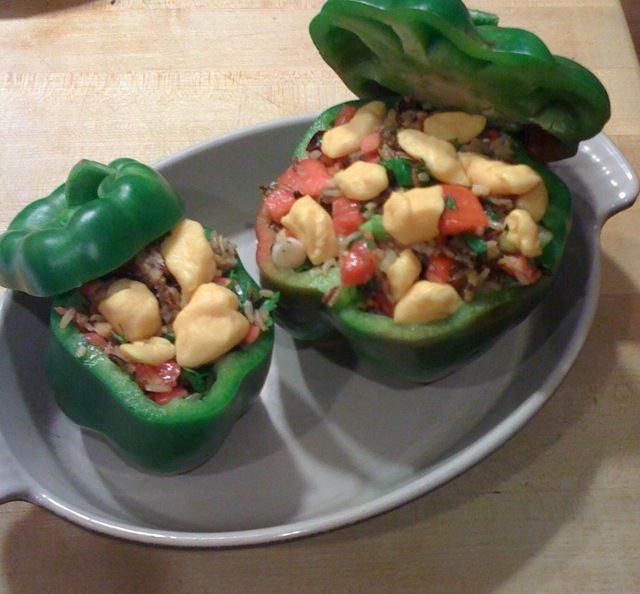 primary-image, l
Introduction
So I went to Wisconsin recently and when I returned I had brought with me some cheese curds, a lot of cheese curds. I also returned to a garden that has been enjoying the warm weather lately because everything was big, especially the green peppers (and the tomatoes were huge). So with the cheese curds not as squeaky as they were a few days back I had to look for other ways to incorporate them other than eating them by the handful. Then it came to me, big peppers, cheese curds and a recent craving for wild rice- a no brainer......stuffed peppers wisco style. Then I decide to add tea to the mix, well because I try and add tea to most things I cook. Then it was too warm outside to be cooking inside so I decided to steam the peppers on the grill. The result was really good. The lapsang souchong added a nice smoky flavor and the cheese curds were absolutely perfect. I had never steamed stuffed peppers before (only baked), so it was definitely much moister than the baked versions, but I really enjoyed it. We served some grilled salmon with it as well.
Ingredients
2 nice sized green peppers, tops cut off and seeds removed
1 cup wild rice, cooked
1 jalapeno, diced
¼ cup bread crumbs or crushed croutons
handful of cilantro, chopped
1 green onion, chopped
1 medium tomato, diced
1 egg
16 cheese curds
pinch of salt and pepper
5 tsp. of lapsang souchong black tea
Steps
preheat grill to medium
add rice, jalapeno, bread crumbs, cilantro, green onion, tomato, egg and salt and pepper to mixing bowl and mix it up real good.
take toothpick and poke a few holes in bottom of each pepper
place 4 cheese curds in bottom of each pepper
fill with stuffing
top with remaining cheese curds
place pepper tops back on
place in oven/grill proof baking dish and fill ¼ of the pan with water
add lapsang souchong loose leaf dry tea to water in pan
cover with tinfoil and cook for 20 minutes
remove and enjoy!