Top | While my sautoir gently sweats — Blog
Waiter, What Wine goes with Heat Stroke?
(post, John Dryzga)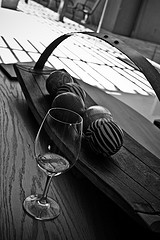 primary-image, l
In normal times, Napa Valley is a little warm during the day, the evenings are cool. This is what makes the wines from the area so special. When we were there, the days were tending to blast furnace, the evenings spent huddled around the air conditioner.

Our first stop was Flora Springs on a recommendation of E's brother. It was a very modern and hip tasting room. There were very few other people in there, so we were enjoying the wines camped out in our zebra striped chairs and getting the undivided attention of one of the pourers. We were having a very good time until a literal bus full of people descended on the bar like locusts. We nearly had to jump up and down to pay for the tasting and get a bottle of their excellent Holy Smoke cabernet.

We then stopped at Charles Krug. This is the oldest winery in the valley. Its main claim to fame is that it launched the Mondavi brother's careers, and the huge fight that split the family for decades. The wines were good, but they did not get us really excited.

As a break from wine tasting, we headed to the Culinary Institute of America's Greystone campus for a demonstration class. We enjoyed a fun class showing us a really good crab cake recipe along with a summer succotash. At least we were ensconced in an air conditioned room for two hours.

Dinner saw us driving uphill to the beautiful Auberge du Soleil. This provided us with a dilemma, eat inside in the nice cool AC, or enjoy the view and roast outside. We opted for outside and the occasional dip into the wine's ice bucket made it bearable. The view was absolutely spectacular. The food was wonderful and we soon forgot how warm it was outside.

As the sun set, temperatures dropped to a more 
humane level. We drove back to our hotel with content with a great day and a wonderful meal, ready for the next day in Napa.