Of greens and flatbreads
(post, Rinku Bhattacharya)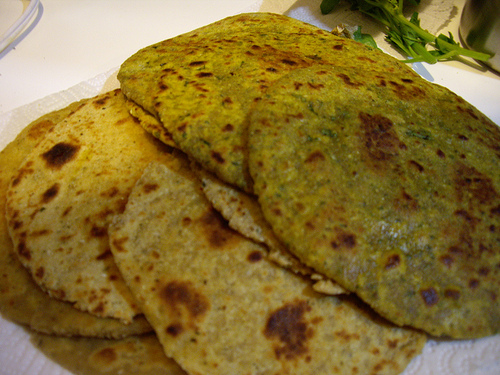 primary-image, l
This year I decided to be brave and start a kitchen garden, well actually the garden project was really my husband's, I decided to trying growning my own herbs. I am thrilled with the results so far - the basil is growing tall and sprouting nice large leaves, the mint is catching up, my lemon thyme and parsley look promising as well!

Outside, we have some lovely beets with bunches of stunning red veined beet leaves and lots and lots of spinach. For those of you looking for tips to get your kids to try new things gardening is a great way! They love to be engaged and then "savor" the fruits of their efforts.

Last evening, I was rewarded with a large colander of washed and freshly picked spinach by my husband, just when I was bringing in some mint. I decided to make two batches of bread - Indian flatbreads. These are not as time consuming as some might think with just a little bit of mechanical inspiration - using a food processor. The key to making these in the food processor is just observing two rules - to process just until the dough begins to hold together and then to remove it and knead into a smooth ball by hand. This activity takes about 5 minutes between both steps. So I made mint and coconut parathas and spicy spinach rotis. The basic difference between a paratha and a roti is the cooking technique - a paratha is cooked on the griddle and lightly brushed with oil or butter and fried. A roti typically does not use any grease and sometime can be finished off on an open flame.

Here is how I did the parathas,

Mint and coconut parathas

Makes 8

Prep Time: 10 minutes
Cook Time: 25 minutes

Ingredients

2 cups of whole wheat flour (atta)
4 tablespoons olive oil
1 teaspoon salt
1 teaspoon freshly ground black pepper
1 cup fresh mint
1/2 cup fresh grated coconut(can be frozen)
1/2 cup yogurt or buttermilk
Extra flour for kneading
1 tablespoon ghee or butter

Method of Preparation

1. Place the flour, 2 tablespoons oil, salt, pepper, mint in the bowl of the food processor and pulse for 30 seconds.
2. Add in the coconut and pulse again until well mixed.
3. Add the yogurt or buttermilk and process for less than a minute until the dough binds.
4. Remove and knead the dough until smooth. Shape into balls and roll out into 6-8 inch diameter circles.
5. Place the remaining oil and butter in a bowl and microwave for 10 seconds to melt the butter
6. Heat a griddle and place the paratha on the gridle and cook for 1 minute. Turn and repeat the process. The dough should look drier and show the begins of delicate brown dots on the surface.
7. Coat evenly with the oil/butter mixture. Using a pastry brush for this works well. At this point the bread actually puffs up. Gently press down and flip. Repeat the process and flip again. The first side should be crisper and have darker brown spots. Continue cooking each side for 30-45 seconds more until the bread is light golden with darker spots.
8. Enjoy with any food of your choice.