Top | Diane Lassen, RN, HHC — Blog
More than the Vegetables-- working at the CSA
(post, Diane Lassen, RN, HHC)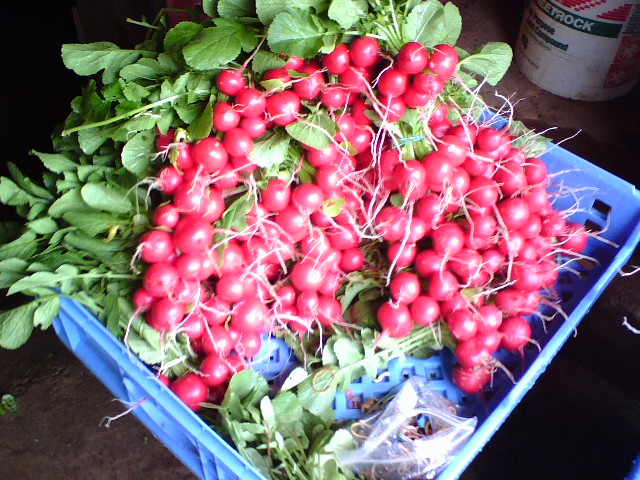 primary-image, l
When I decided to buy a work share in our local CSA, I knew I would be blessed with a weekly allotment of fresh, organic vegetables. I love vegetables, having been a vegan at one time, and now I still focus on my beloved plant kingdom even though I eat the occasional fish and egg. I am accustomed to the wonderful feeling I get from eating a diet rich in plant matter, and I am well aware of the nutritional value. Quite frankly, whether they are raw or steamed, sautéed or roasted, I can't get enough vegetables! I have even been known to sport shirts declaring myself a "veggie girl" and my husband is getting used to seeing me out in the yard sporting a mouth full of wild mustard greens or chickweed that I gathered in our woods.
And so it was with great excitement that I purchased a work share at the Asbury Village Farm owned by farmer Charles Napravnik. Charles farms his 12 acre farm solely with his collection of draft horses—and all of us, of course! For a small fee up front and 3 hours of labor a week, we bring home some of the most beautiful, fresh organic produce I have ever tasted. Just last week I harvested 80 pounds of succulent, tender broccoli rabe. I prepared my portion within hours of picking, first quickly water sautéing it then adding garlic, extra virgin olive oil and hot red pepper. I cannot remember a better plate of rabe! 
There is something spiritual about working at the CSA. The 3 hours I spend there are often the best parts of my week. I transplant seedlings, I pull weeds. I water row upon row of young broccoli plants, knowing that we will be enjoying their harvest in the coming weeks. In every chore I do, I find myself doing it fully, almost meditatively. Working in the soil does that to a person. It brings you into communion with the earth –with the Earth. The feel of the soil between your fingers, the smell of it after a rain—I know that there is something sacred happening here as I am sure others have found that have come before me. 
This week I cut Bibb lettuce and pulled up the most vibrantly purple radishes that I had ever seen let alone eaten. I picked buckets of the purple orbs. As I mindfully washed them in a large tub of water and carefully bundled them into individual shares, I kept a separate pile for spare leaves and cracked radishes—these went to the two pigs that I have affectionately named Gertrude and Lucy. These endearing "little" sows eagerly eat all the trimmings, and I, like any good steward of the land, enjoy seeing the girls make good use of the extras.  So Gert and Lucy had their organic lunch and my husband and I dined on a dinner salad of fresh spinach, arugula, Bibb lettuce and sliced radishes. A simple dressing of olive oil, fig vinegar and grainy mustard was all it took to make it a memorable feast—or maybe it was the fact that I had played a part in the growing and harvesting of our food that added that special quality to the meal.  
Today at the farm, I hoed the broccoli rows. Before the irrigation lines are placed, the broccoli plants are mounded up with soil, and the lines are then placed between the mounds. As I worked my way down the rows, mounding the soil, pulling up the wild thistle and tossing the rocks out of the way, I felt my muscles really working like they hadn't in a long time. It felt good. I paused to stretch out my back and to watch two of Charles' horses grazing in the adjacent field. Not many weeks ago, they too, were working right here where I stood, harnessed to the plow, breaking up the sleeping soil. Now that same soil was buzzing with life: broccoli and cauliflower life, to be specific. 
Because I care about nutrition, and care about what I put into my body, I will always be passionate about eating my vegetables. Besides being chock full of nutrients and low in calories, vegetables just taste good to me. Spending time on the farm with my hands in the dirt has added another element to my dietary mix. It allows me to be a part of the process of bringing foods to life and bringing them fresh to the table. It offers me a chance to really connect with the earth in a way that is profoundly spiritual. Working on the farm provides my family with the nutrition it needs and the taste we all love. For me, it provides a kind of nourishment for my soul. I can't wait until next week.