My Great Aunt Francie
(post, Linda Colwell)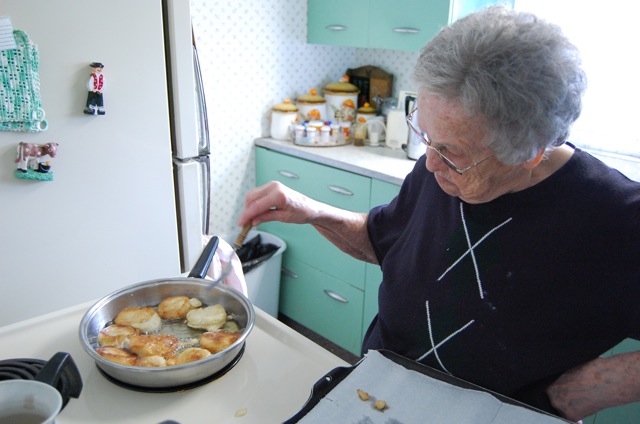 primary-image, l
This is my great aunt Francie making fritters. She is truly great in many ways. She is my grandmothers youngest sister. She still lives on her own, keeps her own garden, cans her tomatoes, pears and apples and every year says it is her last year with a garden but there is always one more year. She is the mother of Freddy which also makes her great. Freddy can play the accordion and swears like a sailor. Francie cooks a lot, plays cards at least once a week with her best friend Rose who makes really good candy. Out of respect to my dear Aunt Francie, I can't tell you her age but I'm fifty this year.

Francie lives in the same house she was married in, raised her two boys in and buried her husband and one son in. Her porch overlooks an abandoned coal mine from the midsection of the twentieth century. Her house is close enough to have heard every alarm raised when there was an accident in the mine, including the one that killed her husband Frank. 

For years, back in the fifties, Francie and her husband Frank ran the Slovenian Clubhouse in the small town of Yukon PA. Frank tended the bar before and after his shifts in the coal mine and Francie did the cooking and serving in the club kitchen. She still thinks in quantities. Later after Frank died, she worked in a butcher shop. 

A few weeks ago I went to visit Aunt Francie with my mom, Bootsie Yaklich. I saw the coal mines, slate piles, monkey dumps and a way of life that is still brimming over with memories and traditions. 

The night we arrived, Francie made a pot of chicken soup with home made noodles. She made two apple strudels for dessert, Freddy ate one before we even got there. He came back and ate more and started in on the orders for the weekend. "Pigs in a blanket", meatballs and sauce and angel food cake to name a few. It was Easter weekend and a lot was expected. Francie cooked it all. Besides, when family visits, a lot of food is shared and most of the days are spent around the kitchen table eating, telling stories, playing cards, and getting caught up on the news and goings on. 

In this part of the country "pigs in a blanket" are cabbage rolls stuffed with pork and rice and braised in a tomato sauce. Affectionately known as "pigs" we ate a dozen on Saturday night and delivered another 2 dozen to Molly and Lenny in Cleveland. The pot of meatballs and sauce was as big as I would make for a crowd of 25. These were a side dish for Easter supper and the extra went to Cleveland and one of three freezers.

In southwestern Pennsylvania there are still a lot of small scale family farms with small slaughter and butcher houses. The eastern European foods of the Slavs, Baltics, Polish, Hungarian and Italians are still around. Many traditions have blended and the culinary borders, like the country borders, have blurred and been redrawn. Family gardens are still kept in the same places that they've been kept for decades.

Francie is great at home style production cooking. Her cooking is real soul food. She cooks the way she has always cooked, the way she learned from her mother and sisters. Though they have all departed, Francie still cooks. Her cooking is what keeps her alive in more ways than one.