Top | Saveur Cooks Authentic Italian
Bagna Cauda
(recipe, Saveur Magazine)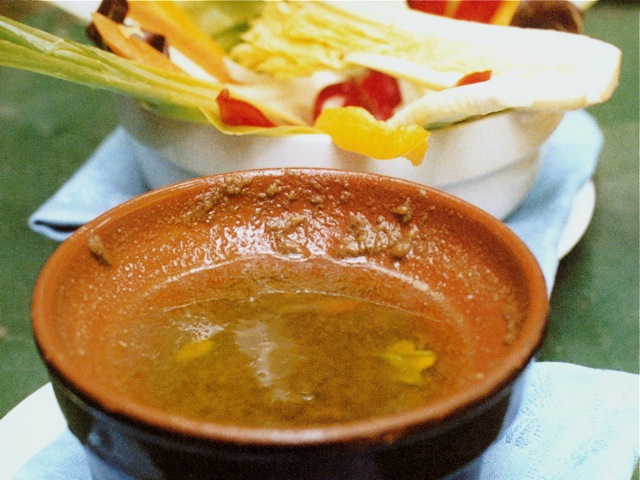 primary-image, l
Introduction
In Piedmont, winemakers celebrate the end of the grape harvest each year with a dinner that begins with bagna cauda (literally, "warm bath") and ends, according to tradition, with eggs scrambled in the last traces of the sauce.
Ingredients
½ cup butter
10 garlic cloves, peeled and thinly sliced
24 oil-packed anchovies, chopped
2 cups extra-virgin olive oil
Salt and freshly ground black pepper
4 cardoon stalks, washed
Juice of 1 lemon
4 to 6 lb. assorted raw vegetables, at least 4 varieties (fennel, baby artichokes, Belgian endive, carrots, radicchio, celery, etc.), washed, trimmed, and cut into pieces
Steps
Melt butter in a small saucepan over low heat. Add garlic and cook until soft, about 3 minutes. Add anchovies and drizzle in olive oil. Cook over low heat, crushing anchovies slightly with a fork and stirring until flavors are blended, 10 to 15 minutes. Season with salt and pepper and keep warm.
Carefully cut thorns and leaves off cardoon stalks, then peel with a swivel vegetable peeler. Cut cardoons into pieces 3 to 4 inches long and put into a medium bowl with lemon juice and water to cover.
To serve, arrange the vegetables on a platter and put the anchovy-garlic sauce into a warm bowl so that each diner can dip vegetables into the sauce.
Note
Culinate editor's note: For a smoother-looking sauce, pour the sauce into a blender and blitz until homogenized. Return the sauce to the saucepan to reheat, or simply pour into a warm serving bowl.