Classic Cream Scones
(recipe, Deanna Dudney)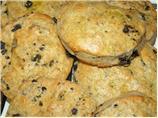 primary-image, l
Ingredients
2 cups all-purpose flour
¼ cup granulated sugar
2 tsp. baking powder
⅛ tsp. salt
⅓ cup unsalted butter, chilled
½ cup heavy cream (whipping)
1 large egg
1½ tsp. vanilla extract
½ cup currant or raisins (optional)
1 egg, mixed with 1 teaspoon water for glaze (optional)
Steps
Preheat oven to 425 and lightly butter a baking sheet.
In a large bowl, stir together flour, sugar, baking powder and salt. Cut the batter into ½'' cubes and distribute them over the flour mixture.
With a pastry blender or two knives used scissor fashion, cut in the butter until the mixture looks like coarse crumbs.
In a small bowl, stir together the cream, egg and vanilla. Add the cream mixture to the flour mixture and stir until combined. Stir in the currants or raisins.
With lightly floured hands, pat the dough into a ½'' thickness on a floured cutting board. Using a floured 2-½'' biscuit cutter or glass, cut rounds from the dough and place on the prepared sheet.
Gather the dough scraps and repeat until all the dough is used.
Bake for 13-15 minutes until lightly browned. Cool on a wire rack, serve with butter and jam. Enjoy!