Homemade Ricotta Gnocchi
(recipe, Jessica Strand)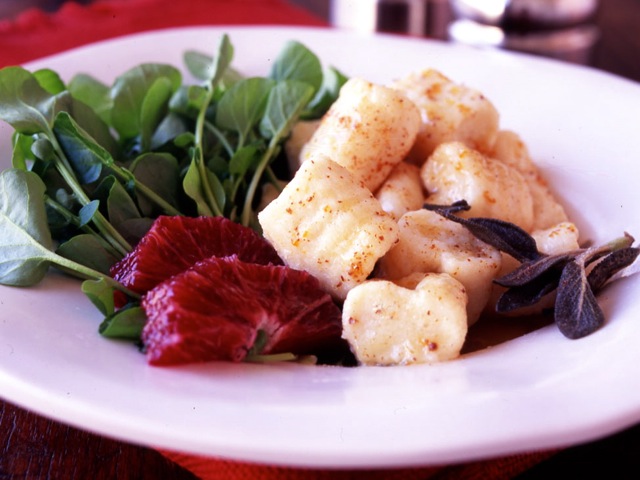 primary-image, l
Introduction
Gnocchi are usually made from cooked potatoes and flour, and though they're one of my favorite Italian dishes, they can be leaden and heavy if made incorrectly. Here's a lighter method for making a different kind of gnocchi that are delicious and foolproof.
Ingredients
Gnocchi
2 cups fresh whole-milk ricotta cheese, drained in a sieve for 2 to 3 hours
1⅓ cups freshly grated Parmesan
2 large eggs
¼ cup all-purpose flour
½ tsp. salt, plus more to taste
Freshly grated nutmeg
Salad
2 Tbsp. olive oil
2 tsp. balsamic vinegar
2 bunches watercress, cleaned and stemmed
½ tsp. freshly grated and finely chopped blood-orange zest, plus the peeled and sliced segments from 1 blood orange (about 12 to 16 sections)
Pepper to taste
Sauce
4 Tbsp. unsalted butter
10 fresh sage leaves
Steps
Prep the gnocchi: In a large bowl, combine the ricotta, Parmesan, eggs, and flour. Add the salt and nutmeg and keep mixing until a soft dough forms.
Turn the dough out onto a floured surface. Roll the dough into two long 14- to 16-inch ropes (each about 1 inch in diameter); sprinkle with flour if the dough is too sticky. Cut each rope into 18 to 20 pieces. Press the tines of a fork into each piece to create an indentation. Arrange the finished gnocchi on a piece of parchment or waxed paper next to the stove.
Make the salad: In a medium bowl, whisk together the olive oil and balsamic vinegar. Add the watercress and blood-orange segments. Toss until the leaves and oranges are coated in the dressing. Season with pepper to taste.
Make the gnocchi: Bring a medium pot of water to boil. Add the gnocchi in two batches, cooking each batch for 5 to 6 minutes or until the gnocchi begin to expand and rise to the surface of the water.
Make the sauce: In a medium saucepan, melt 1 tablespoon butter, then add the sage leaves and let brown for 2 to 3 minutes, or until crispy. Set the leaves aside to drain on a paper towel.
Melt the remaining 3 tablespoons of butter in the same saucepan. Add the blood-orange zest to the butter and continue to cook the butter until it is light brown, about 2 to 3 minutes. Add the cooked gnocchi to the sauce, carefully spooning the sauce over them.
Assemble the salad and gnocchi: On two large dinner plates, place a large pillow of greens dotted with the blood oranges, and next to them place 10 to 12 of the gnocchi. Drizzle the gnocchi with the brown butter and garnish with the crispy sage leaves, then serve.
Note
To enjoy leftover gnocchi, heat 1 tablespoon olive oil and 1 teaspoon water in a small skillet. Add the gnocchi, cover, and cook 1 to 2 minutes to heat through. Toss with chopped fresh tomatoes and herbs as desired.