The young and the landless
(article, Twilight Greenaway)
[%pageBreakSettings maxWords=1200]

They're not wearing overalls or brandishing pitchforks, but the young farmers who appear in the trailer for the documentary film "The Greenhorns" are the real thing. Their faces are sun-worn, the dirt under their fingernails is visible on camera, and they look like they've stopped between sweat-inducing tasks to share agricultural secrets with the audience. 

The film's director, Severine von Tscharner Fleming, 27, appears in the trailer several times, pushing open a farm gate, leading the camera into a greenhouse, and waxing poetic in a field of protected land. 

Von Tscharner Fleming farms a small plot of land herself and believes that America's young farmers, the subject of the documentary, can "feed us safe food, conserve valuable land, and reconstitute communities split apart by strip malls." 

[%image feature-image float=right width=400 caption="Severine von Tscharner Fleming"]

She speaks in sweeping, lyrical terms, but her visions of the future of American farming are firmly based in reality. "We would like to live in a world where it is possible to go to school and then do a series of apprenticeships and on-the-job trainings and eventually become an owner-operator of your own farm," she says. 

Von Tscharner Fleming is also the principal voice behind much of the work of the Hudson Valley nonprofit, also named The Greenhorns, whose aim, she says, is to help amplify "the promising beginnings of an agricultural revival." 

Why an agricultural revival among young farmers? Well, our country's farmers are getting older; nationwide, the percentage of principal farm operators younger than 35 has dropped from 15.9 percent in 1982 to 2.3 percent in 2007. And the average age of the American farmer has also risen; in 2007, it was a not-very-youthful 57. 

According to the ecologist Richard Heinberg, the percentage of Americans who farm for a living has dropped from nearly 40 percent in 1900 to just about 1 percent in 2006. Which means that, as the Environmental Protection Agency points out, less than 1 million Americans are responsible for growing all the farm crops in the country. 

In his essay '"Fifty Heinberg asks, "Who will be growing our food 20 years from now? With less oil and gas available, we will need far more knowledge and muscle power devoted to food production, and thus far more people on the farm, than we have currently." 

Feeding our current population without fossil fuel, Heinberg calculates, could require as many as 50 million (or roughly one in 6) Americans to be somehow engaged in food production. That's 25 times the current estimated number.

Michael Pollan is only slightly less prescriptive. Last October, in "Farmer in Chief," his open letter to the country's next president, Pollan wrote, "As a society, we devalued farming as an occupation and encouraged the best students to leave the farm for 'better' jobs in the city. We emptied America's rural counties in order to supply workers to urban factories.

"To put it bluntly, we now need to reverse course. We need more highly skilled small farmers in more places all across America — not as a matter of nostalgia for the agrarian past, but as a matter of national security."

h3. Money and land — the two stumbling blocks

"Young farmers can be seen by land trusts, smart-growth advocates, and civic-enlivenment agencies as really positive players in maintaining livable cities, livable suburbs, and of course providing for sustainable food access to inner-city areas," says von Tscharner Fleming. "And in the long term, we're talking about reducing the energy costs of food." 

If you're a young person eager to get into farming in the U.S. these days, you can choose between 68 different colleges and universities offering classes and degree programs in sustainable agriculture. Most established farms also offer on-the-job training. But even the hardest workers — those who manage to land positions as farm managers — rarely get paid enough to save the kind of capital it takes to get their own farms growing. 

"It's not impossible; the toughest nuts do succeed," says von Tscharner Fleming. "There are certainly some farms that can pay a good salary, and private land stewards who can front the cost of land equipment. But it's not by any means a predictable trajectory, like from high school to college to grad school to, say, medical school to internship to professional salary."

Apart from low wages, the problems facing young farmers include the availability and the price of land. Good farmland is expensive on its own, but worth even more when it's developed, meaning that what farmland does exist is disappearing. According to the American Farmland Trust, every year the U.S. loses roughly 1.2 million acres of agricultural land to development. That's roughly 3,300 acres a day.

h3. Land swaps — sometimes

When veteran farmers stop farming and want their land to remain farmland, there are a variety of federally and privately funded programs available to help them find new farmers interested in leasing or buying their land. For example, most states have FarmLink programs that serve as neutral third parties, facilitating the farming transition. 

[%image illustration float=left width=400 caption="A hand-drawn invitiation by von Tscharner Fleming to a benefit barbecue for the film 'The Greenhorns.'"]

In Ohio, a FarmLink program sets up "speed-dating" events where farmers looking to retire can meet multiple aspiring farmers. In many other states, such as Pennsylvania and New York, FarmLink websites offer online listings for land and leasing opportunities. 

Kendra Johnson is the Central Valley regional coordinator for California FarmLink. She ran a garden farm herself for several years, but was frustrated by the combination of long hours and minimal pay. So these days, Johnson spends her time pairing up retiring and new farmers. She says successful matches are less common than she'd like. 

"I've watched a lot of people come and say they want to start a farm and maybe be introduced to a farm or a few, and then start to have the conversation and face a whole bunch of realities that maybe they knew about before but didn't address," says Johnson. Often, she says, affordable land is just too far away from urban markets, or a young farmer will do the math and realize she can't make the income she wants from farming. 

Johnson regularly encounters 20- and 30-somethings who've worked on multiple farms and graduated from programs like UC Santa Cruz's Center for Agroecology and Sustainable Food Systems. "They're educated, middle-class young people who are totally psyched about the sustainable-agriculture movement, but they're not in a position to buy land yet," says Johnson. "It's really hard — and I learned this myself — to work your butt off farming without building equity."

And the face of the American farmer is also changing. In his 50-million-farmers essay, Heinberg wrote, "The stereotypical American farmer is a middle-aged, Euro-American male, but the millions of new farmers in our future will have to include a broad mix of people, reflecting America's increasing diversity. Already the fastest growth in farm operators in America is among female full-time farmers, as well as Hispanic, Asian, and Native American farm operators." 

In California's Central Valley, the nation's breadbasket, Johnson says these trends hold true as well. Instead of "Euro-Americans," it's often refugee immigrant farmers who are willing to farm on leased land, according to Johnson. These demographic changes have been aided, in part, by organizations like the Agriculture and Land-Based Training Association, which help migrant and low-wage farmworkers to become landowners. Between 1997 and 2002, for example, the nation saw a 51 percent increase in the number of principal farm operators of Hispanic heritage. By 2007, that number had grown another 10 percent. 

h3. Federal loans — or not

Of course, if you happen to grow up on good land, you'd be crazy not to try your luck at farming it. At least, that's Zoë Bradbury's take on things. After spending a number of years working on farms and for various sustainable-agriculture nonprofits, Bradbury, 29, decided to return to the 80-acre parcel of Oregon coastal land her parents bought back in the 1970s and farm it.

[%image reference-image float=right width=400 caption="Two young farmers in a field at California's Alemany Farm."]

"Had I not had land to come back to — that would have been my biggest obstacle," says Bradbury.  

In addition to being a Food and Society Policy Fellow with the sustainable-food nonprofit Roots of Change, Bradbury began farming two acres, growing both annual (carrots, beets, fennel) and perennial (asparagus, raspberries) crops. Her mother and sister already ran their own small businesses on the land, giving Bradbury access to a faithful customer base eager to buy what she planned to grow. But even with land and a ready-made market, Bradbury says, the first year was rough.

Last spring, after startup expenses (a greenhouse, an irrigation system) and operating expenses (seeds, soil amendments), Bradbury hit a common snag: she was broke. On her blog, Diary of a Young Farmer, Bradbury wrote, she decided to hit up the USDA's Farm Service Agency for a farm loan. 

As Bradbury soon discovered, however, the USDA offers loans based on a projected income that did not take her time-intensive organic practices into account. And the government agency uses rock-bottom commodity prices — only 14 cents a pound for carrots, for instance — to determine a farm's crop value. 

When Bradbury explained that she would be able to get much more for her organic vegetables, she was told that she'd need three years of sales numbers to prove her organic claims. Bradbury, of course, had only just begun to farm the land.

"On my 2.5 acres, growing about 25 different crops and selling them at the state commodity prices, it looked like I would gross about $4,900 for the whole year — which would make me eligible to borrow a few hundred dollars from FSA," wrote Bradbury. "Maybe enough to buy a stack of Megabucks tickets and hope for better luck from the lottery than the USDA."

Last fall, Severine von Tscharner Fleming teamed up with Zoë Bradbury to pen a Grist editorial outlining the key political, economic, and cultural needs of young farmers. The 2008 Farm Bill didn't answer most of their calls for change, but it did take one small step toward embracing young farmers: $75 million was allocated to the Beginning Farmer and Rancher Development Program, which will offer start-up support for new farmers through additional credit provisions, conservation incentives, and assistance programs. Just what percentage of this funding will go toward supporting small-scale sustainable farmers is still in question. But von Tscharner Fleming is optimistic.

"Young farmers will often be setting themselves up in a model of agriculture that's pretty low investment; they're just not as likely to step into something like industrial hog farming where they'd need a million dollars' worth of concrete to get started," says von Tscharner Fleming. "Not that federal funding doesn't go to some young factory farmers, but more likely the people coming in with principled stewardship ideas and community-service ideas are going to come into para-urban areas around core areas of settlement and grow food crops like vegetables, rather than huge commodity crops." 

h3. The cooperative model — tricky, but doable

Another way around federal funding gaps is buying and leasing land with others. Take Arethusa Farm, a small collective that's part of the Intervale Center in Burlington, Vermont. Arethusa is one of the longest-running and most successful Intervale farms, where 13 farms operate on 120 acres with more than 60 full-time and seasonal workers, plus young apprentice farmers. Over the years, Arethusa has tinkered with the cooperative-ownership model, swelling to four owners before dropping back down to two co-owners, Thomas Case and Ben Donner, plus a crew of hired workers.

Case, who spent three years working with the local collective Digger's Mirth, believes the collective model appeals to young farmers interested in democracy. "But it's one thing to talk about those ideals and another to live them," he admits. Running a farm as a four-owner collective meant a lot of time spent discussing the workings of the business rather than farming. And, in the end, the profit margin wasn't wide enough for four owners.

[%image featurette-image float=left width=400 caption="A young farmer inside a greenhouse in California's Sunnyside Nursery."]

On a larger scale, however, some cooperative models are proving very effective at recruiting young apprentice farmers and providing them with what it takes to start their own small farms. Perhaps the biggest, most successful example is CROPP, the 1,322-farm cooperative behind the Organic Valley and Organic Prairie products. Since 2005, under the title Generation Organic, CROPP and Organic Valley have worked to motivate and support a new generation of organic farmers and "save the family farmer from extinction." Most importantly, however, the cooperative model allows members to set a consistent price on their products. 

In case of third-generation dairy farmer Peter Mahaffy, 32, the cooperative has meant that he could pick up where his grandfather left off. 

"I went into an agriculture program in school not knowing whether I would ever milk cows again. I just didn't think it was practical," says Mahaffy. His parents had switched to raising beef cows, and it wasn't until he graduated and got a job working under a CROPP member that he was shown the real value of organic methods. 

Mahaffy learned how to graze cows on a rotation, so that they always have a fresh patch of grass after milking. Soil tests, manure application, and keeping grass nutrient-rich quickly followed. Within a few years, he and his wife had invested in 60 of their own cows and moved back to his family's farm in Coos Bay, Oregon. 

"I had the resources and the farm and I would have kicked myself for not trying to make it work," says Mahaffy. Now, he says, the stable price and the marketing power of the cooperative means he can continue farming without worrying about growing to compete.

Thanks also in part to the growth in demand for organic dairy, Mahaffy says, his farm "can get better without having to get bigger." He also likes knowing that his farm helps take care of the nearby river and surrounding land. But he likes the little things, too.

"After milking, in the spring or fall, when the cows are out on new pasture and it gets dark out early, all you hear is a hundred cows surrounding you, tearing at the grass," he says. "I know, that's just one of those sounds not everyone is going to be able to hear."
 
p(bio). Twilight Greenaway works for the Center for Urban Education about Sustainable Agriculture (CUESA), where she writes about efforts to create a more sustainable food system throughout the Bay Area.

illustration, l

feature-image, l

reference-image, l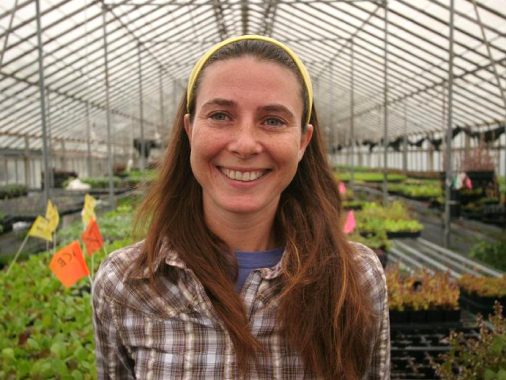 featurette-image, l