Fizzy Melon Soup
(recipe, Kate Simon)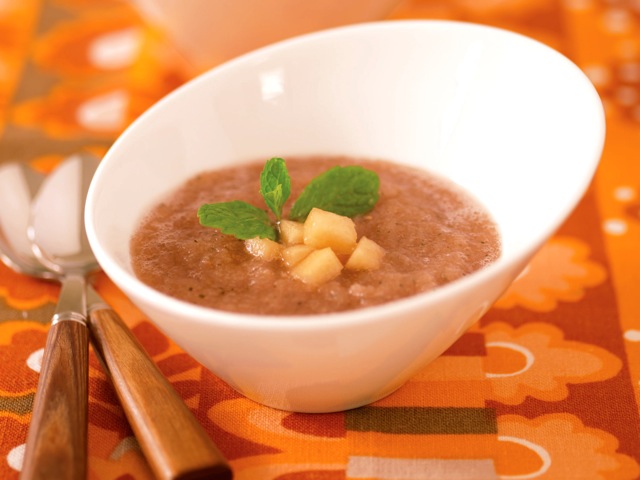 primary-image, l
Introduction
This zesty chilled soup is perfect in the summer, when it's too hot to turn on the stove. Any type of melon works, from easy-to-find supermarket varieties to farmers' market heirloom beauties. Sparkling sake adds its own rich melon notes and soft fizz.
Ingredients
6 cups cubed fresh, ripe melon
4 Tbsp. finely chopped mint
1 cup fresh, ripe raspberries
1 orange, peeled, pith removed, fruit separated into segments
1 Tbsp. freshly squeezed lime juice
2 Tbsp. agave nectar
2 tsp. peeled and grated fresh ginger root
¼ tsp. sea salt
¾ cup sparkling sake
Steps
Reserve 2 cups of melon and 2 tablespoons of mint to use as a garnish.
In a blender or food processor, combine all remaining ingredients except sake. Purée until consistently blended. Pour the sake into the purée, stirring gently but well.
Refrigerate the soup for at least two hours.
In the meantime, cut the reserved melon into ½-inch dice. When soup is chilled, stir gently but well. Spoon into bowls and garnish with reserved melon and mint.
Note
[[ignore. p(green). Special Cookbook Friday promotion entry below: [%contestSignup contest=TinyBubblesMelonSoup prompt='Win a copy Tiny Bubbles plus an Imbibe subscription' submit='Submit entry to the contest\' requireNewSubscription=false] h6. \ In entering your email address, you will agree to a trial subscription of Culinate's weekly newsletter. Don't worry if you already subscribe, you may still enter and will only receive one copy of the newsletter. h6. All eligible winners must have mailing addresses in the U.S. Winners are selected from all valid entrants and will be announced on this page once selected and confirmed. Please note that all standard Culinate contest rules apply to this drawing. ]]