Top | How to Be a Domestic Goddess
Butter Cut-Out Cookies
(recipe, Nigella Lawson)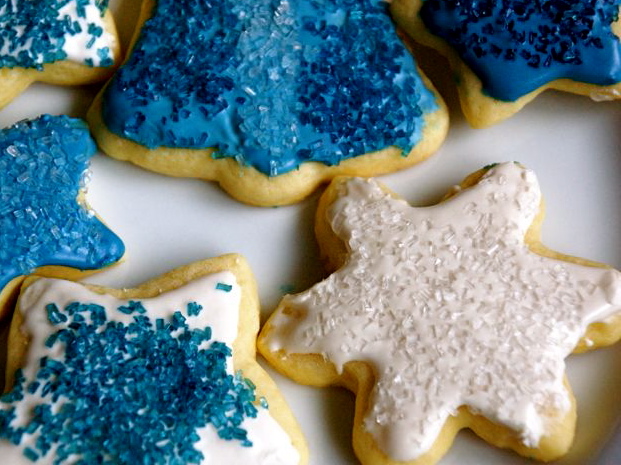 primary-image, l
Introduction
It's not hard to make cookies that hold their shape well while cooking, and it's not hard to make cookies that taste good and have a melting, buttery texture. What's hard is to find a cookie that does all of these things together. This one, by way of a wonderful American book, The Family Baker, does, so any time you want to play supermummy in the kitchen, here is where you start. Like all doughs, this dough freezes well, so it makes sense — in a smug, domestic kind of way — to wrap half of the dough in plastic wrap and stash it in the deep freeze until next needed. It's hard to specify exactly how much icing you'll need, but you might end up using more than specified below if you're using a lot of different colors. I always cut out the newly acquired age of the child on his or her birthday. My children couldn't contemplate a birthday party without them.
Ingredients
Cookies
¾ cup (1½ sticks) unsalted butter, softened
¾ cup sugar
2 large eggs
1 tsp. vanilla extract
2⅔ cups cake flour, plus more if needed
1 tsp. baking powder
1 tsp. salt
Cookie cutters
2 baking sheets, greased or lined with parchment or waxed paper
Frosting
2 Tbsp. hot water
2 cups confectioner's sugar, sifted
Food coloring as needed
Steps
Cream the butter and sugar together until pale and moving toward moussiness, then beat in the eggs and vanilla. In another bowl, combine the flour, baking powder, and salt. Add the dry ingredients to the butter and eggs, and mix gently but surely.
If you think the finished mixture is too sticky to be rolled out, add more flour, but do so sparingly, as too much will make the dough tough. Halve the dough, form it into 2 fat discs, wrap each half in plastic wrap, and let it rest in the refrigerator for at least 1 hour.
Preheat the oven to 350 degrees.
Sprinkle a suitable surface with flour, place a disc of dough on it (not taking out the other half until you've finished with the first), and sprinkle more flour on that. Then roll it out to a thickness of about ¼ inch. Cut into shapes, dipping the cutter into flour as you go, and place the cookies a little apart on the baking sheets.
Bake for 8 to 12 minutes, by which time the cookies will be lightly golden around the edges. Cool on a rack and continue with the rest of the dough.
When the cookies are all fully cooled, you can get on with the icing. Put a couple of tablespoons of just-not-boiling water into a large bowl, add the sifted confectioners' sugar, and mix together, adding more water as you need to form a thick paste. Color as desired; let the artistic spirit within you speak, remembering with gratitude that children have very bad taste.
Frost the cookies; let the frosting set a bit before coating with sprinkles or other decor.
Note
Culinate editor's notes: For a lemony icing, try Cookie Icing; it's a flavorful and glossy variation on royal icing. You can also simply replace the hot water called for in the frosting with freshly squeezed lemon juice. If you choose the latter route, zest the lemon the juice comes from and add the minced zest to the cookie dough. If you don't have cake flour on hand, make your own by by replacing two tablespoons out of each cup of all-purpose flour with cornstarch. Sift the flour-cornstarch mixture together a few times before using. Don't worry if your cookie total is only around three dozen; the frosting is only enough for about 30-odd cookies anyways.