Basic Scones
(recipe, Carrie Floyd)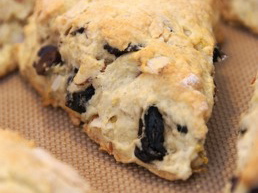 primary-image, l
Introduction
This basic scone recipe makes an excellent base for endless variations. My two favorites are dried cranberries and pecans with orange zest, and dried cherries with almonds and lemon zest. A friend of mine forgoes the fruit and nuts altogether in favor of chocolate — a large bar of dark, bittersweet chocolate cut into chunks. Feel free to experiment based on your own taste and the contents of your pantry.
Ingredients
2¾ cups all-purpose flour
¼ cup sugar
1 tsp. baking soda
2 tsp. baking powder
½ tsp. salt
1 cup dried fruit and/or nuts, chopped
1 Tbsp. lemon or orange zest
½ cup melted unsalted butter
¾ cup low-fat buttermilk
1 egg
Steps
Preheat oven to 375 degrees.
In a medium-large bowl, mix together the flour, sugar, baking soda, baking powder, salt, dried fruit and/or nuts, and zest. In a smaller bowl, whisk together the melted butter with the buttermilk and egg. Add the wet ingredients to the dry and stir just until the dough begins to come together.
On a lightly floured surface, shape the dough into a ball, then gently flatten into a disk that measures about 10 inches across and ¾ inch thick. With a floured knife, cut the disk into 10 wedges. (To make more scones that are smaller, make 2 disks, each about 6 inches across, and cut each disk into 10 wedges.)
Transfer scones to a baking sheet and place the sheet atop another baking sheet the same size to avoid burning the bottoms of the scones. Bake until light brown, about 20 to 25 minutes. Cool briefly on a rack before serving warm with butter and jam.
Note
If your fruit is more dry than supple, soak it in a little orange juice or water for about 20 minutes. Before adding the fruit to the batter, squeeze out the liquid and discard.