Holiday wine choices
(article, Bruce Bauer)
[%pageBreakSettings nobreak=true]

How's that holiday budget looking these days? About as good as your 401(k) retirement plan? 

After you've cut back on frivolous spending — you know, fripperies like food, gas, utilities, and mortgage payments — you may still feel the need to save a few bucks on the really necessary things in life, like wine. 

Fear not. You can still drink festively and cheaply at holiday meals by following my three basic rules:

[%image party float=right width=400 caption="Holiday meals are the perfect time to spend wisely."]

# Leave that special bottle you've been saving for a special occasion in the basement, for a different special occasion. Most wintertime holiday meals are a surfeit of competing flavors, and any subtlety in a well-aged bottle will be lost in the crowd. 
# For red wines, I always advise customers at my wine shop to look for something full and fruit-forward, like a juicy California Zinfandel, a rich Aussie Shiraz, or one of those always delicious French Côtes du Rhône. They all have the requisite body and crowd-pleasing flavors to match up with turkey, ham, beef, or whatever graces your table. And none of them will break the bank.
# For white wines, my first choice is always a quality German Riesling. This is perhaps the most underappreciated white food wine in the world. With its intense fruit-filled flavors and sharp acid on the finish to clear your palate for the next bite, these always do the job. And no, they are not all sweet. Look for a "Kabinett" or "Spätlese" level wine. Other whites that will do the trick are dry Muscats from Italy or Austria, a Viognier from eastern Washington, or a mid-priced ($15-ish) Pinot Gris from Oregon. Again, all of these are at the cheaper end of the shopping spectrum.

Several other wine-need categories come to mind in this most demanding of seasons. Here's a rundown of situations, and some possible solutions:

h4. The host gift

Got a dinner invite? If you can find out the menu ahead of time, pick a bottle to match (ask your local wine merchant for help if food-and-wine pairings aren't your strength). No clue about the menu? A good Oregon Pinot Noir (admittedly, these are a little pricier) or a crisp, minerally northern Italian white wine will work with most meals.

h4. The office holiday party

You're in charge of the office party. You've been instructed to pick up a case or three of wine, but your boss won't spring for anything too extravagant. Not a problem: Just turn to one of the many inexpensive yet delicious reds from Spain, which you can usually buy for $7 or $8 per bottle by the case. Spain is also a good source for the deliciously festive, dry, and very affordable sparkling white wine called cava. For a non-sparkly white wine, try a vino bianco from Italy.

h4. The standing-rib-roast meal

Roast beef is traditional at many Christmas dinners, and it demands a big, burly red. I wouldn't hesitate to pull out a California or Washington Cabernet Sauvignon, an elegant 2005 red Bordeaux, or (on the spendy side) a complex, earthy Châteauneuf-du-Pape. It's a special dish, so step up your game.

h4. New Year's Eve

It's a special night, right? Make a nice dinner for you and your beloved, featuring a bottle of real French Champagne. It has it all: quality, elegance, fabulous flavor, and those millions of tiny bubbles that will put anyone in a celebratory mood. But if you can't spring for the real deal, try cava (mentioned above) or Italy's delicious bubbly, prosecco.

h4. The unpicky drinker

Everyone has a friend, relative, or significant other who doesn't care what he drinks. Do yourselves a favor: surrender. If Uncle Willy's been stashing a box of cheap Chablis in the fridge for 20 years, he's probably not down with your fine white Burgundy. In the true spirit of the season, give him what he likes, not what you like. You won't go broke. And you'll all feel merry and bright.

p(bio). Bruce Bauer owns a wine shop called Vino in Portland, Oregon, and blogs at Eat. Drink. Think.

party, l

reference-image, l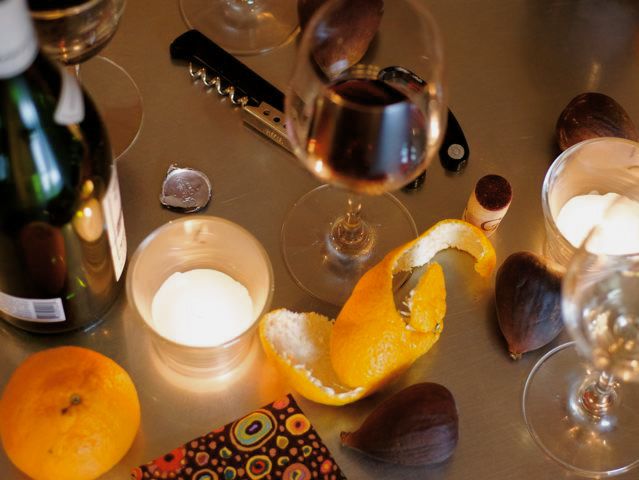 feature-image, l