Land of Plenty
(book, Fuchsia Dunlop)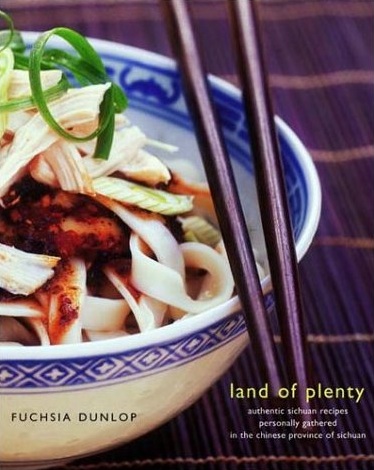 primary-image, l
h4. From the publisher

The food of the Sichuan region in southwest China is one of the world's great culinary secrets. Many of us know it for its "hot and spicy" reputation or a few of its most famous dishes, most notably Kung Pao chicken, but that is only the beginning. Sichuanese cuisine is legendary in China for its sophistication and astounding diversity; local gourmets claim the region boasts 5,000 different dishes. And it's not just about the kick of fiery red chiles and numbing Sichuan pepper; local chefs use unparallelled flavoring techniques to create at least 23 distinct flavor combinations, from sour-sweet, melting "lychee flavor" to punchy, seductive "fish-fragrant flavor."

Fuchsia Dunlop fell in love with Sichuanese food on her first visit to the province 10 years ago. The following year, she went to live in the Sichuanese capital of Chengdu, where she became the first foreigner to study full-time at the province's famous cooking school, the Sichuan Institute of Higher Cuisine. She spent her spare time studying in the kitchens of some of the region's most famous restaurants, exploring street markets and food stalls, and cooking and eating with her Sichuanese friends in their homes. Her passionate enthusiasm for the food and her fluency in the Chinese language gave her unprecedented access to China's most vibrant culinary region.

Now, for the first time in the English language, Dunlop has given us a cookbook gathered on the spot from the kitchens of Sichuan, filled with stories and colorful descriptions of the region itself. Written with the support of leading Sichuanese chefs and scholars, and researched entirely from local sources, Land of Plenty offers a clear and fascinating introduction to the real Sichuanese cuisine.

Useful for the enthusiastic beginner as well as the experienced cook, Land of Plenty teaches you not only how to prepare the Sichuan recipes but also the art of chopping and to appreciate the textures of dishes. Among this book's unique features are a full glossary of Chinese terms; Chinese characters useful for shopping; a practical introduction to the art of cutting; detailed lists of the 23 recognized flavor combinations and 56 cooking methods used in Sichuanese cuisine; 16 color pictures of the ingredients and finished dishes; double-page maps of the region; and Chinese characters for every recipe.