The Christmas Table
(article, Diane Morgan)
[%pageBreakSettings nobreak=true][%adInjectionSettings noInject=true]

h3. From the chapters "Foods of the Season" and "Special Equipment and Tools"

At one time, fresh or frozen was the only choice you had when it came to buying a commercially raised whole turkey. Now there are lots of choices, and quality and taste differences exist among them. Here are my thoughts on what is available in the marketplace.
	
[[block(sidebar).

h1. About the book and author

Diane Morgan's new cookbook, The Christmas Table, is basically a sleighful of holiday how-to tips, including recipes.

Based in Portland, Oregon, Morgan is an award-winning cookbook author and cooking teacher whose writing appears regularly in food publications; she is also a frequent television guest.

Excerpt reprinted with permission of Chronicle Books (2008).

]]

Standard turkeys: These mass-produced, conventionally raised birds are sold either fresh or frozen during the holiday season. This is a perfectly acceptable turkey, easy to obtain without a lot of forethought from any large supermarket and reasonably priced.

Self-basting turkeys: Sold fresh or frozen, these turkeys have been "enhanced" with fat of some sort, in addition to natural and artificial flavorings. The theory behind this product is that the bird doesn't need to be basted, saving the cook time and energy. Good idea in theory, badly executed in practice, primarily because the enhancer is flavored vegetable oil, which I don't consider an enhancer. This is my least-favorite turkey on the market. Do not brine a self-basting turkey. These birds have already been injected with a salt solution.
	
Free-range turkeys: These are the turkeys that get to run around the barnyard, so to speak. They aren't necessarily raised outdoors, but they are raised in spacious, open environments. Many of them are labeled "organic" as well, and are more expensive than other turkeys. If you order from a knowledgeable butcher or have a specialty-foods store you trust, ask the staff who raises the turkeys they sell and if the birds are both free-range and organic, or just free-range. These can be delicious, moist, and flavorful birds, and I believe are usually worth the price.
	
Kosher turkeys: Although usually sold frozen, these birds are often available fresh in large supermarkets at Thanksgiving and Christmas. They have been inspected, slaughtered, and cleaned under strict rabbinical supervision, which makes for an expensive bird. If you will be serving observant Jewish guests, this is the turkey to buy; otherwise, opt for a non-kosher, free-range bird. Do not brine kosher turkeys. They have already been salted in the koshering process.

Cooking for the holidays doesn't require a lot of fancy equipment, but some kitchen items will make your life easier. 

[%image pan float=right width=400 caption="A roasting pan, gravy strainer, carving knife and fork, baster, and meat thermometer all make turkey roasting and serving easier."]

Bulb baster: This tool certainly makes basting meat and poultry easier, but a large spoon will work in a pinch. Buy either a stainless-steel or a heat-resistant plastic baster. I prefer the latter because I can see through it. Glass basters are a mistake, as they inevitably break.

Carving board: Different from a cutting board, a carving board has a "moat" that collects meat juices and a "well" that traps them. This is handy for carving all kinds of meats and poultry. My favorite type is a wooden board that is reversible, so you can use the flat side for chopping and dicing.

Carving knife and fork: A carving set is lovely if you are presenting a whole bird or a whole piece of meat and carving it at the table, but it is not critical. If you don't have one, you do need a very sharp utilitarian carving knife and carving fork. After working hard to roast your holiday turkey or prime rib, you want to cut smooth, even slices. A good knife is a lifetime investment.

Fine-mesh sieve: Doing double-duty for cooking and baking needs, I have three sizes of fine-mesh sieves. I use the large- or medium-sized sieve for straining stocks, soups, or sauces, depending on the volume to be strained. I use the small one for dusting confectioners' sugar over cakes, pastries, and tarts. 

Gravy strainer: This useful tool looks like a measuring cup with a spout that originates near the bottom. You pour in pan juices or gravy, the fat naturally rises to the top, and the relatively fat-free liquid that settles to the bottom is easily poured out through the spout. Although handy for making gravy and sauces from pan juices, this strainer is definitely not essential. 

Kitchen twine: Buy the proper twine to truss your bird or tie your roast. It should be 100 percent linen, which resists charring. Flimsy string won't do, and dental floss can tear the skin and chars (I've seen it used!). You'll be surprised how often you will reach for twine once it is in the kitchen.

[[block(sidebar).

h1.Featured recipes

These holiday recipes come from The Christmas Table.


Meat thermometer: The small-dial, thin-shaft, instant-read thermometer is the most accurate way to judge the doneness of meats, poultry, and fish. You must not leave the thermometer in the food, however. Instead, you insert it, give it a few seconds to register the temperature, and then out it comes. For safety and sanitation, always wash the thermometer before reinserting it in any food. I prefer an analog thermometer to a digital one, as the readings on digital models tend to jump wildly from one temperature to another. Oven thermometer: If you doubt the accuracy of your oven's thermostat, buy an oven thermometer before you start cooking and baking. Once you know how far off the thermostat is, you can adjust the temperature dial accordingly. Whether your oven is brand-new or old, it doesn't hurt to have an oven thermometer to double-check its accuracy. Probe thermometer: This thermometer is made up of a probe with a thin wire connected to a transmitter. You insert the probe into the food, put the transmitter on a counter next to the oven, and program the transmitter with the desired temperature. The newest versions have a transmitter and wireless remote, so you can walk up to 120 feet away and the pager will beep when the food is done. These thermometers are cool, but Internet reviews have been mixed. If you like reading manuals and figuring out how to program gadgets, this is the tool for you. Roasting pan: These are usually about 4 inches deep and made of stainless steel or aluminum, sometimes in a nonstick finish (makes for easy cleanup). The best ones are extra heavy and have sturdy, upright handles. Measure your oven before you buy! A medium pan, about 16 by 12 by 5 inches, is adequate for a turkey weighing up to 20 pounds or even a seven-rib prime rib. The best pans cost about $100 and will last a lifetime, but for years I managed with a black-and-white-speckled, enamel-coated steel pan I bought at a hardware store for under $20. I don't recommend using disposable foil pans because they buckle easily. If you must use them, buy two for double thickness. Roasting rack: A V-shaped steel rack, preferably nonstick, elevates meats and poultry for faster cooking and keeps the pan drippings away from the meat. Buy one with tall, vertical handles on two sides; they make lifting the meat much easier. The non-collapsible V-shaped racks are by far my favorite. A high-quality, medium-sized rack costs about $20. Before you buy, make certain the rack fits inside your roasting pan! A flat wire rack is a better choice for baking a ham, which is too broad for a V-shaped rack. Serving platters: Whether you are serving a whole turkey, goose, leg of lamb, or standing rib roast, it is important to make sure you have a platter large enough to accommodate it. You don't need to spend a fortune for a china platter. Shop at outlet stores and discount shops, where you can have fun mixing and matching serving pieces. p(blue). Note: You have a chance to win one of three copies of Diane Morgan's The Christmas Table. Enter the drawing before noon (PST) on Friday, November 14, 2008. By entering, you agree to subscribe to our weekly e-newsletter. (If you currently receive the newsletter, you can still enter, using the same form below.) Good luck! p(green). Entry has now closed. Congratulations to the winners: Irma, Shana, and Gabriel. We look forward to hearing how their Christmas Table turns out. [[ignore. [%contestSignup contest=TheChristmasTableP2 prompt='Win a copy of The Christmas Table' submit='Submit entry' requireNewSubscription=false] ]] h6. All eligible winners must have mailing addresses in the U.S. or Canada. Winners will be announced on this page once selected and confirmed. Please note that all standard Culinate contest rules apply to this drawing.

reference-image, l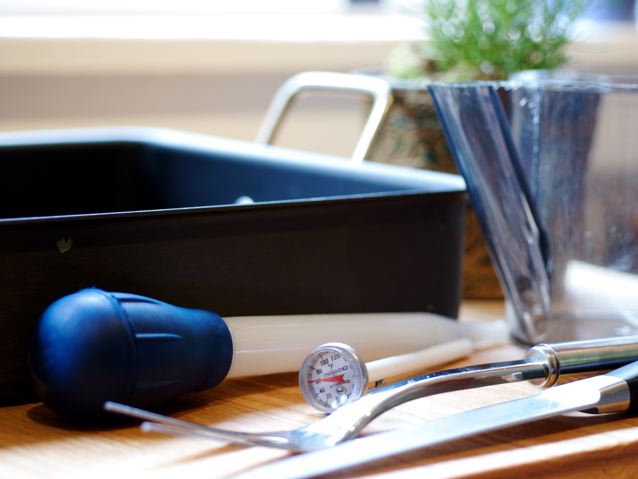 pan, l

baster, l

feature-image, l

featurette-image, l

promo-image, l