Top | Fresh from the Farmers' Market
Baked Leeks with Cream and Tarragon
(recipe, Janet Fletcher)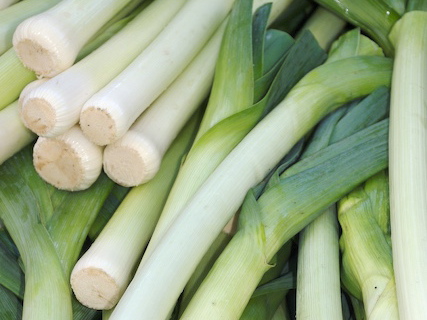 primary-image, l
Introduction
Cooks used to have to throw away about two-thirds of every leek because the tender white and pale green shank was so short. Now breeders have given us leeks with much longer shanks, dramatically increasing the edible portion. For this recipe, check the farmers' market for leeks with a shank about 6 inches long, a size that fits in most baking dishes and is not too large to serve whole. By the end of the baking time, they will be bathed in a creamy tarragon sauce. Serve as a separate first course or as an accompaniment to roast chicken, pork, or beef.
Ingredients
8 leeks, each about ¾ inch in diameter
½ cup heavy cream
½ cup homemade or canned low-sodium chicken broth
1½ tsp. Dijon mustard
1 tsp. minced fresh tarragon
Salt and freshly ground black pepper
Steps
Preheat oven to 375 degrees.
Cut off the dark green leek tops, leaving only the white and pale green shanks. Trim the root ends but leave the bases intact, to hold the leeks together. Slit the leeks lengthwise, stopping about 2 inches short of the bases. Rinse well between the layers to dislodge any dirt. Arrange leeks in a shallow baking dish just large enough to hold them in one layer.
In a small bowl, whisk together the cream, broth, mustard, tarragon, and salt and pepper to taste. Pour over the leeks. Bake 30 minutes, then turn leeks over with tongs. Return to oven and bake until leeks have absorbed almost all the creamy sauce and have begun to brown on top, 35 to 45 more minutes. Serve hot or warm.