Fall spices
(post, Harriet Fasenfest)
As I write this, the grapes are turning into raisins and the paste tomatoes are getting ready to become all that a canned tomato can be. Along with my alliums, my tomatoes are the thing I am most sure of. Cooked and canned, they actually release nutrients a raw tomato will not offer, such as lycopene. They will be canned up quickly as diced or puréed beauties, or given more time to become ketchup or barbecue sauce — all things my son deems necessary for life.

Besides pantry stocking, there have also been the innumerable meals we have eaten fresh from the garden. I can comfortably say that a person can grow, on no more than a city lot (house included), enough for a side dish to every meal throughout the spring and summer seasons. It takes a little planning and experience in succession gardening, but it can be done. It also takes the willingness to eat the same thing day after day when it is in season (even spinach and summer squash can get old), but that is something necessity will take care of. "Hunger," as my mother says, "makes the best cook."

[%image onions float=left width=350 caption="Home-cured onions."]

And speaking of invention, I have come to appreciate herbs in a way I never have before. Nothing like a little oregano to change beans from "this again" to "yum again." Many mornings, after the dew dries and before the blossoms bloom, I harvest savory and aromatic herbs for use in cooking throughout the winter: basil, oregano, thyme, sage, and marjoram. They hang inverted under the treehouse to dry away from the sun and to catch the most of their essence. They will do wonders throughout the year. There's also lavender, dried to remember summer scents, and lemon verbena, raspberry leaves, and mint for high tea during our season of high tides. 

I can almost understand how modern civilization, with its attached lineage to spice routes and trade, happened. What's not to like about cinnamon, particularly in its saintly marriage to apples in pie? But it isn't local, so there you have it. 

It appears that modern civilization's downfall can be pegged to our palates. Still, I need not ride the dinghy to the Spice Islands to get what I need. There is plenty to honor in my backyard. Which is not to say I don't visit the spice and salt markets — I do. But not without respecting the history and legacy they are attached to.

I am glad I still allow for spices, since I have 12 sugar-pie pumpkins waiting to be harvested. They will go in storage for pies well into the winter and beyond. They are this year's bumper crop. Not sure I wanted it to be, but I grew a new variety and it produced very, very well. Along with the six or so sweet and chubby butternut squashes, I should have plenty to bake, steam, and roast for some time to come. That's what I'm after, so that's good.  

Add to this mix all that the garden is yet producing — lettuce, spinach, Chinese greens. Soon, too, there will be the chard, collard, and kale that will make it through much of the winter. I have a small bed of carrots, but other than a meal or two, they won't offer much by way of winter eating. I admit to getting worn out this time of the year, so winter gardening tends to take it on the chin. Still, I am posed to harvest some things during the wet and cold days ahead.

So these are the things of my garden. In addition, I will continue to buy the raw milk that becomes yogurt and cheese, the eggs that become everything, the chicken-stock kits for, well, stock and illustrious points yet unknown, the grass-fed beef and lamb from friends and small purveyors, and the dried beans and grains I could not grow. And all of it together seems to make a reasonable replacement for the things I find in the store. I will make notes throughout the year as to what lasted and didn't. How much more or less I should grow and whether 71 pounds of peaches will ever make sense — I did crack open a jar last night, though.

Tomorrow: Where things stand.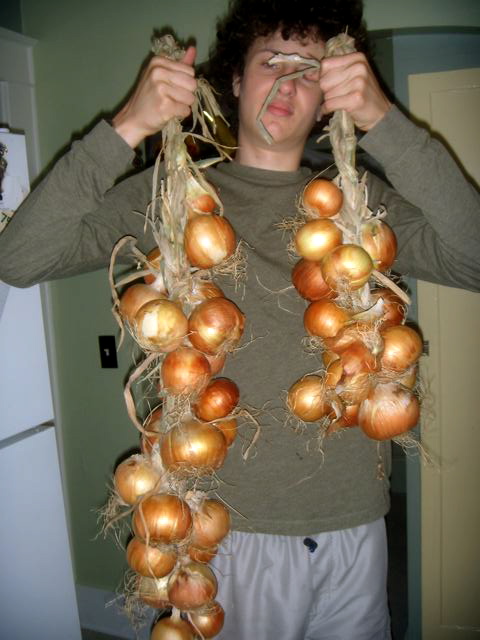 onions, l

reference-image, l