Top | The Whole-Grain Challenge
The grain bank
(post, Kim Carlson)
Carrie Floyd told me that at the baseball game last night, she saw a sign that made her look twice. "Does that sign say 'oats'?!" she asked her daughter. 

"It says outs!" replied her daughter, with all the exasperation a sweet 12-year-old can muster. "Jeez, Mom." 

[%image reference-image float=left width=400 caption="Millet, in case you're wondering."]

So goes the Whole-Grain Challenge. I have to admit, I feel a little sheepish when Carrie describes the hoops she's jumping through to try to eat whole grains at every meal. I try . . . but I give up pretty quickly, especially when I'm eating out. Most restaurants dwell in a processed-grain world; when was the last time you went out for a burger and got it on a whole-grain bun? Or for a pizza on a whole-wheat crust? (I did learn that the pappadums at Vindalho are made of lentil flour, which — as lentils aren't grains — doesn't count.)

So Carrie's eating in a lot (which I admire, always) and cooking a bunch. Not only that, but she's put together [/articles/features/grain_glossary "a mighty useful glossary" newpage=false] of 20 of her new best friends: whole grains, from amaranth to wheat berries. 

It's a great resource, and if you haven't seen it yet, check it out before your next grain quest. Maybe you'll find something there to inspire you. Personally, I'm on the hunt for red or black quinoa; I want to try this recipe from a singer I admire greatly, Pink Martini's China Forbes.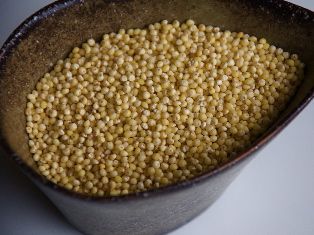 reference-image, l