Rabbit Stew
(recipe, John Taboada)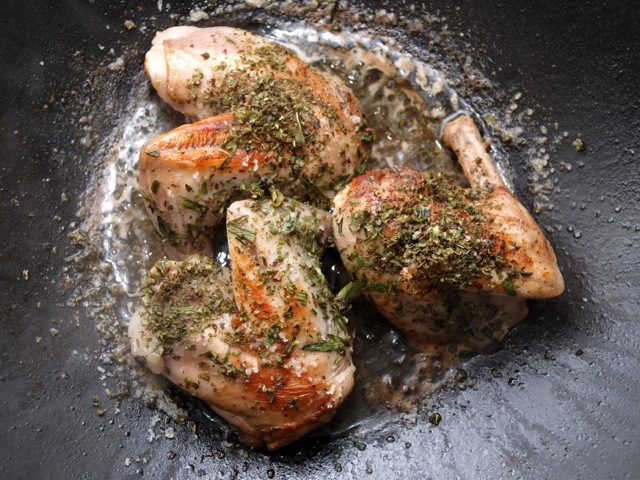 primary-image, l
Introduction
Serve this hearty dish with polenta.
Ingredients
1 oz. dried porcini mushrooms
¼ cup olive oil
2 cloves garlic
1 sprig rosemary
2 bay leaves
1 small sprig thyme
1 rabbit, cut into 6 to 8 pieces
1 onion, thinly sliced
1 celery stalk, diced
1 carrot, diced
1 cup dry white wine
Salt, pepper, and freshly grated nutmeg to taste
Steps
Soak the porcini in warm water for 1 hour. Drain and chop.
In a Dutch oven on the stovetop, heat the oil and briefly sauté the garlic, rosemary leaves, bay leaves, and thyme leaves. Add the pieces of rabbit and brown them evenly. When the garlic is brown, remove it and the herbs from the pan and discard them. Add the onion, celery, carrot, wine, and the soaked porcini. Season to taste with the salt, pepper, and nutmeg.
Bring to a simmer and cook for 2 to 3 hours (alternatively, put the dish in a 325-degree oven and cook for the same amount of time). To keep the rabbit loins from overcooking, remove them during the last 45 minutes of cooking.
Make the polenta while the stew is cooking. When ready to serve, ladle a bit of rabbit and some sauce over the fresh polenta.