Meet the alliums
(article, Kim O'Donnel)
[%pageBreakSettings nobreak=true]

In the botanical world, it's one of the big mobster families —  between 600 and 1,250 species strong. Whether wild or domesticated, green or dried, ornamental or edible, alliums have two defining characteristics: a bulbous body and a sulfurous nature, resulting in a distinctive "onion-y" perfume and/or flavor profile. 

[%image reference-image float=left width=250 caption="Garlic scapes"] Alliums appear in nearly every cuisine around the globe, and many cooking traditions consider them to be the building blocks of gastronomy. Consider mirepoix (diced onions, celery, and carrot), the foundation of classic French cuisine; the sofrito of Spain  (onions, garlic, and tomatoes); the soffritto of Italy (onions and garlic); or the holy trinity of Creole and Cajun cooking (onion, bell pepper, and celery).  

Here are eight edible alliums both common and obscure, varying in shape, size, and flavor intensity. 

[[list(culinate8).

#(clear n1). [%image chives float='clear right' width=300 caption="Chives"]Chives. Twelve years ago, as a rookie line cook at Cashion's Eat Place in Washington, D.C., I learned, among other things, how to chop chives. 

"Ringlets, young lady," sous chef Gillian Clark barked at me as I prepped my station. "Stop smashing them!" Clark, who now runs her own restaurant (Colorado Kitchen, also in Washington, D.C.) and has written a culinary memoir, remains one of my mentors, and because of her, I've learned to respect chives, the smallest of all the edible alliums.  

Unlike the other alliums in this group, chives produce wispy blades rather than fibrous shoots, and so are used more like an herb than a vegetable. A gentle rocking motion with a sharp knife will result in desirable chive ringlets, which offer the faintest onion-y flavor that turn ordinary scrambled eggs and garlic-rubbed toast into transcendent nibbles.

#(clear n2). [%image scallions float='clear right' width=300 caption="Scallions, or green onions"]Scallions. Or is it green onions? Apparently, it's an East Coast versus West Coast thing, and if you live in the east, you know the skinny green-topped bulbs as scallions. However, a more fully developed green-topped bulb is known as a "spring onion." Got that?

I like using scallions as a garnish — on top of black beans, pico de gallo, or a bowl of rice with cucumbers and soy sauce. They offer plenty more piquancy than chives, yet maintain their herbaceous notes until it's time to become a full-fledged onion. Next time you fire up the grill, throw a bunch into a grill basket with a quick brush of olive oil, and you'll end up with some sultry cebollitas asadas — or grilled scallions.

#(clear n3). [%image leeks float='clear right' width=300 caption="Leeks"]Leeks. It may look like an overgrown scallion, but it's not. The most vegetal of all the alliums in this collection, the leek is a cross between a mild onion and a sweet lettuce, I reckon. "Gentle giant" is how cookbook author Elizabeth Schneider refers to the leek in her [%bookLink code=0688152600 "Vegetables from Amaranth to Zucchini"].

Although not ideal in raw form, the leek is incredibly versatile when heat is applied. You can boil and purée it, braise it, poach it, roast it, steam it, and frizzle it in oil. It makes fast friends with soup, potatoes, rice (hello, risotto!), herbs, lemons, and a variety of steaky fish, including halibut and mahi mahi.

Whichever leek partner you choose, make sure your leeks are free of sand and silt, which like to lurk in the inner crevices. To prep, trim the woody dark green parts, cut off the root, then slice in half lengthwise. Place under running water and allow dirt to rinse away.

#(clear n4). [%image onions float='clear right' width=300 caption="Onions"]Onions. The thin slice of onion that your mother sticks between two pieces of white bread and a schmear of liverwurst? In all likelihood, that's a fresh onion. Defined by its thin, somewhat moist skin and a fairly high water content, the fresh onion is sweet and mild enough to eat raw with that liverwurst. You might know it as a Walla Walla, Vidalia, Maui, or Mayan Sweet, and depending on where it's grown, it shows up in markets on a seasonal basis.

Conversely, the onion that comes packed in those netted bags that you buy for soup, stew, and roast beast is known in onion circles as the storage onion, commonly labeled as the yellow onion. Its skin is more like wrapping paper, and its water content is much lower, resulting in that piquant bite and nose we all associate with the onion. 

Here's an interesting tidbit from the National Onion Association: The Egyptians regarded the onion as a symbol of eternity and buried onions in mummies. 

#(clear n5). [%image pearlonions float='clear right' width=300 caption="Pearl onions"]Pearl onions. Have you met Pearl? She's a little thing, often pickled for cocktail hour but also found on many a Thanksgiving table in creamed fashion. 

The pearl among the Pearls, in my opinion, is the cipolline, the Italian disc-shaped beauty — dreamy morsels when roasted or boiled, then glazed with a wine-brandy reduction. Yowza.

#(clear n6). [%image ramps float='clear right' width=300 caption="Ramps"]Ramps. If you ever passed through (or hail from) the Appalachians, you may know of this stinky leek that grows wild in the woodlands. The ramp is usually the first sign of spring in places like Richwood, West Virginia, which holds a renowned ramp festival every March or April. 

Unlike the common leek, the ramp has a thin reddish bulb, topped off with pointy green leaves that resemble the shoots of a tulip. Forget her looks, though; the most defining characteristic of the ramp is her perfume. One bunch of ramps can stink up the joint in minutes. 

You can cook both the bulb and the greens, but because the flavor is intense, I recommend sautéing or braising them first, then mixing with potatoes or pasta — something starchy to cushion some of the rampy-ness. I have friends who love 'em sauteed with morels or fiddlehead ferns. 

#(clear n7). [%image shallots float='clear right' width=300 caption="Shallots"]Shallots. Not quite an onion and not quite garlic, the shallot is like a mysterious and beautiful woman you meet on a train and never see again, but she changes your life. She's pretty in coral pink and oh so petite, but she packs a piquant punch. And yet, her flavor and texture are both subtle and sophisticated. She might very well be my favorite allium. 

A staple of Thai and Vietnamese cookery, the shallot is minced and mixed with spices and other aromatics to create a base of multi-layered flavors, making Southeast Asian food intensely heady. Try caramelizing whole shallots in a cast-iron skillet over low heat with butter and oil; in an hour, you'll have shallot jam that will send you to the moon. Uncooked shallots can also be added to vinaigrettes, much like garlic. Which brings us to: 

#(clear n8).[%image garlic float='clear right' width=300 caption="Left to right: Garlic scapes, green garlic, and regular garlic"]Garlic. Here's where I get to say all onions are alliums, but not alliums are onions. As much as I love garlic, these days I am more intrigued by its earliest incarnations, before it becomes a fully formed bulb. I'm talking about green garlic and the garlic scape. 

At a glance, green garlic could pass for a spring onion, but a quick whiff and you'll know better. You can mince both the tops and bulb for a milder garlic experience, but what I like is that it feels clean and bright on the tongue. It feels like spring. If risotto is in your future, try seasoning it with the allium duo of green garlic and leeks, a spritzy combination. 

About six weeks after green garlic makes its arrival, those ever-growing bulbs produce a curly green shoot reminiscent of Medusa's hair. That curl is also called a scape, and it's not only edible, it's fabulous. When you see those curls at your farmer's market, don't waste any time deliberating; run home and make a batch of pesto that you'll remember for the rest of time. For about four weeks in June, I make lots of garlic-scape pesto and use it like a condiment. Throw it into pasta or just eat it off a spoon. 

]]

p(bio). Kim O'Donnel is a blogger for the Washington Post and Real Simple magazine, and the author of A Mighty Appetite for the Holidays.

chives, l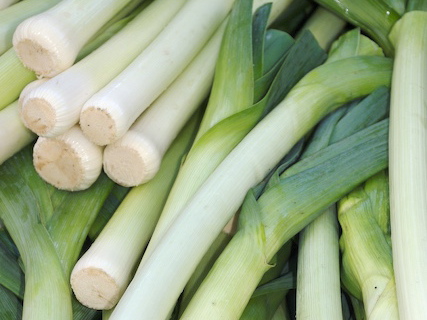 leeks, l

ramps, l

pearlonions, l

onions, l

reference-image, l

garlic, l

shallots, l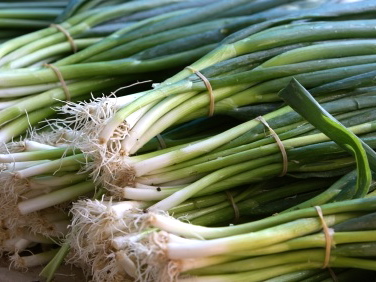 scallions, l