Carrot Apricot Muffins
(recipe, John Peterson & Angelic Organics)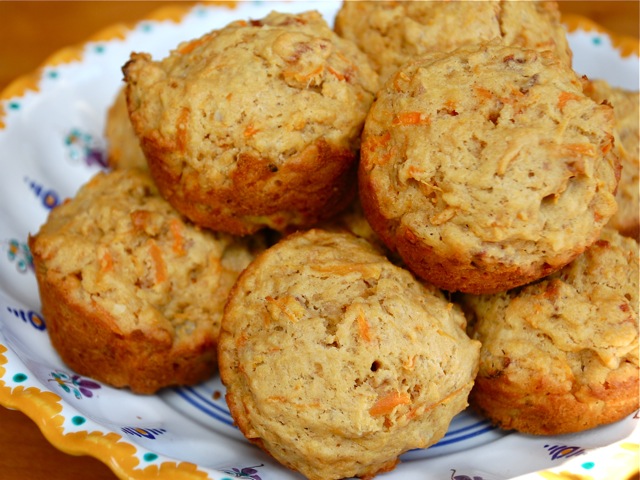 primary-image, l
Introduction
It's hard to imagine anything more tempting than a batch of freshly baked muffins. The kitchen smells sweet and spicy, and those steamy little gems look so comforting, so tasty, so easy to eat more than one . . .
Ingredients
Butter for greasing the muffin pan
2 cups all-purpose flour
½ cup sugar
¼ cup brown sugar
2 tsp. baking powder
½ tsp. salt
2 large eggs
½ cup butter, softened
⅓ cup buttermilk
2 tsp. orange-juice concentrate
½ cup chopped dried apricots
1½ cups grated carrots
½ cup chopped walnuts or almonds
Steps
Preheat the oven to 400 degrees. Generously coat a 12-cup muffin pan with butter or line it with paper muffin cups. Set the pan aside.
Mix the flour, sugar, brown sugar, baking powder, and salt in a large bowl.
In a separate large bowl, beat the eggs. Beat in the butter, buttermilk, and orange-juice concentrate. Slowly add the flour mixture, stirring lightly and briefly, until just combined. (Avoid overmixing the batter, as this makes muffins dense and tough.)
Add the apricots to the flour mixture. Stir in the carrots and nuts until the ingredients are just combined.
Ladle the batter into the prepared muffin pan, filling each cup no more than three-quarters full. Bake the muffins until a toothpick inserted near their centers comes out clean, 20 to 25 minutes. Cool for 10 minutes on a wire rack before serving.