Spicy Beef with Tomato and Basil
(recipe, Martin Yan)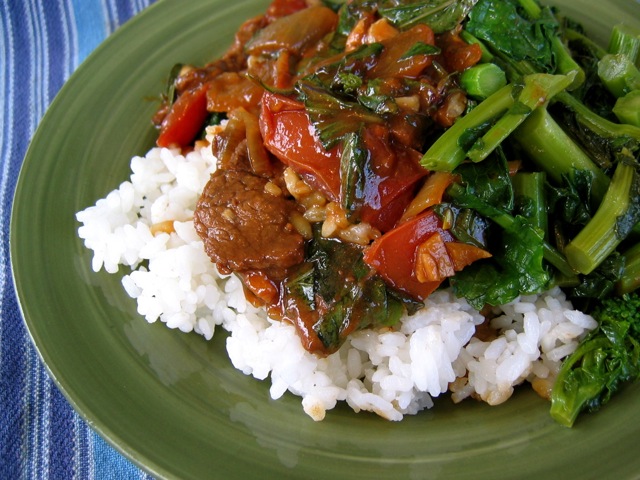 primary-image, l
Introduction
What's simpler than tender flank steak, stir-fried with tomato wedges and red chiles, and served over a bed of Chinese broccoli? In my book, simplicity in the cooking is simply good cooking.
Ingredients
2 Tbsp. vegetable oil
½ cup sliced onion
2 tsp. minced garlic
2 small dried red chiles, seeded
¾ lb. beef flank steak, thinly sliced across the grain
½ cup Thai or sweet basil leaves
2 tomatoes, cut into wedges
1 tsp. cornstarch dissolved in 2 teaspoons water
8 oz. Chinese broccoli, trimmed, blanched, and cut into 2-inch sections
Sauce
2 Tbsp. soy sauce
1 Tbsp. rice vinegar
1 Tbsp. sugar
2 tsp. sesame oil
Steps
To make sauce, in a bowl combine soy sauce, rice vinegar, sugar, and sesame oil.
Place a wok over high heat until hot. Add oil, swirling to coat sides. Add onion, garlic, and chiles; stir-fry until fragrant, about 30 seconds. Add beef and stir-fry until barely pink, 1½ to 2 minutes.
Add basil, tomatoes, and sauce; mix well.
Add cornstarch solution and cook, stirring, until sauce boils and thickens.
Transfer to a platter; arrange broccoli around the beef and serve.
Note
Editor's note: Steam some rice while you're blanching the broccoli and making the stir-fry, and you've got a full meal ready to go.